To the point of funny: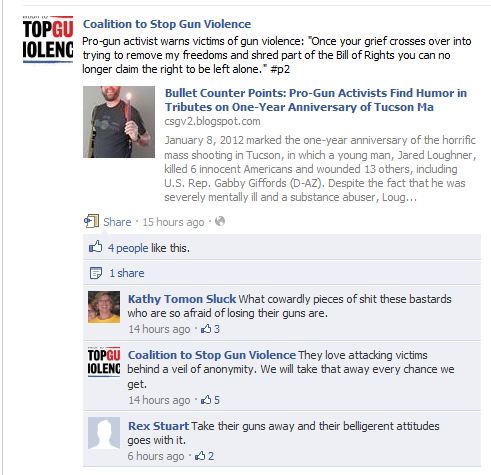 Kathy Tomon Sluck What cowardly pieces of shit these bastards who are so afraid of losing their guns are.
Christ, she is foaming at the mouth so much, she went all Yoda on us.
Coalition to Stop Gun Violence They love attacking victims behind a veil of anonymity. We will take that away every chance we get
Hmmmmm, no? I don't do veils and Miguel is my real name.
Rex Stuart Take their guns away and their belligerent attitudes goes with it.
1) We do not have belligerent attitudes, otherwise you'd be hiding in Cuba by now.
2) No, you won't take our guns away. Then we would have to deal with your attitude.
3) One word: Backup!