Video shows the entrance of a local night establishment in Venezuela. They guy in white (Mr. White) is armed security for the location. You will see a guy in blue (Mr. Blue) coming out in a second…. and the shit hits the fan. We will forgo the why plus whatnots and concentrate only on the mechanics of the incident. Please start video at 1:25 or whereabouts.
Mr. Blue comes out of the locale pretending everything is peachy fine then turns and draws his weapon.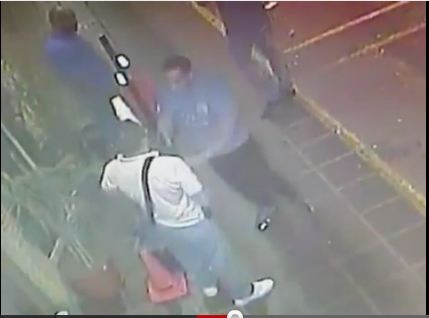 Apparently Mr. White (who is a leftie) is a firm believer that having the gun in hand is the fastest way to win a draw and it seems he had the weapon hidden on a shoulder bag. Surprise for Mr. Blue.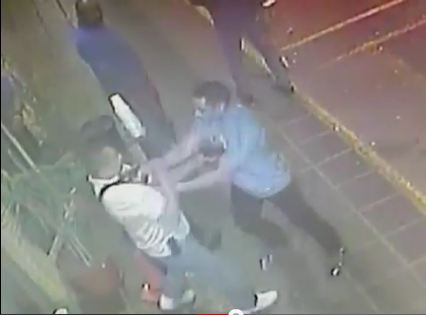 Mr. Blue was not expecting the feel of steel in his chest. More than likely his synapses are working overtime trying to come up with a new answer to the dilemma he has never faced. This was not in the repertoire of pre-programmed answers & actions. Mr. White thus manages to displace Mr. Blue's gun away from his body.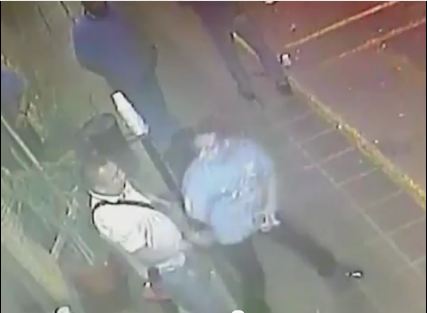 Mr. Blue is now in a very unsustainable situation. His weapon is controlled and Mr. White's gun is firmly placed in his neck. Is that a glass in Mr. Blue's right hand?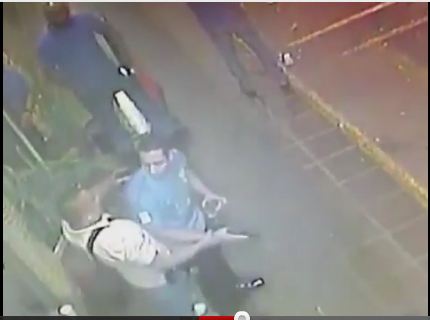 Mr. Blue decides to counterattack or at least he initiates some bonehead movement for whatever stupid reason. He still has a threatening gun against his neck.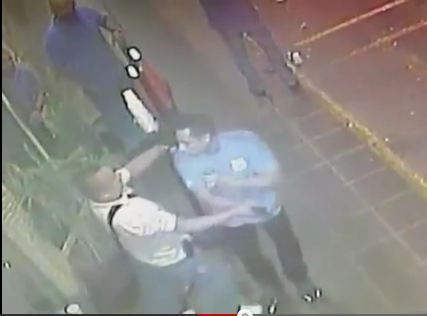 And Mr. White reacts. Crick in the neck it is not.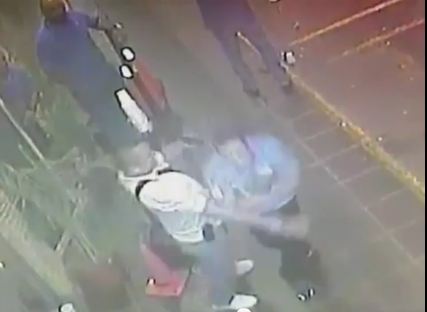 Mr. Blue assumes forced and permanent horizontality.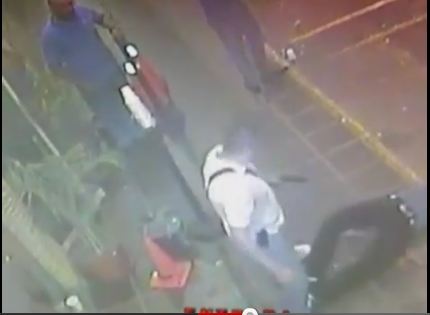 Now let's take a trip on the road of assumption. I am willing to bet that a heavy mix of alcohol and ego was involved. Whenever that happens, Travis Tritt  becomes the soundtrack for some people. Whatever Mr. Blue felt Mr. White did or failed to do probably bruised his ego and felt the need to satisfy it. Listening to your ego tends to be a very poor career choice.
Distance (and therefore Time) are your friends in a gunfight. Why throw it away and get close to your contender? Mr. Blue was probably demonstrating to Mr. White he was one Hombre Malo and Mr. White was supposed to cower in fear and surrender to the top cat in the street. Mr. White seems to have disagreed with that statement and Mr. Blue found himself with his gun mostly out of the action and with his life now in danger because he had probably never faced an determined and prepared enemy. He could not come with a proper counter response. Instead he probably went on an ego/stupid move to re assert his superiority, a decision probably fueled by alcohol consumption and paid the last price he was going to pay on this planet. If he had been man enough to ingest a ration of humble pie, he would probably still be contributing to the Global Warming effect by adding his regular quota of carbon dioxide.
I will admit that the Left Handed thing caught me by surprise. I know I was not expecting it and it came handy for Mr. White (pun intended.)
So biys and girls, the lessons for today are: leave the ego at home, booze, guns and stupidity do not mix, keep your distance and be careful of those darned sneaky Lefties!