Caught this sucker on Twitter: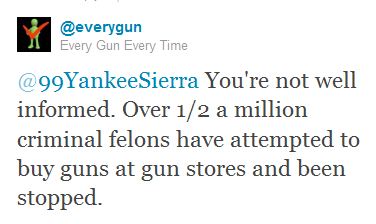 And the crowd goes wild! Fireworks go bang and the people feel safe…. until the do the math and realize that something is fishy with that statistic.
Felons attempting to buy guns at gun stores are violating 18 U.S.c. §§ 92 which is punishable by up to 10 years imprisonment and/or up to a $250,000 fine. That means the following:
500,000 indictments for violation of 18 U.S.c. §§ 92.
Up to 5 million years of prison time if all were found guilty.
Up to 125 billion dollars in fines.
Call me crazy, but those numbers would be outstanding and worthy of the front page of any newspaper or leading story in the 6 O'clock news. Have you heard anything like that? Nope. And you won't because the dirty little secret is that the NICS check is notorious for giving false positives. In 2009, NICS issued 71,010 initial denials and when all was said and done only 77 cases were presented for prosecution. That is 0.1 percent of the initial denials or in plain English, 99.9 percent of the denials were wrong.
So, if you are going to throw stats out there to support your point of view, make sure they are logical and not propaganda tools for shock value. You might get shocked back.