Here we go again: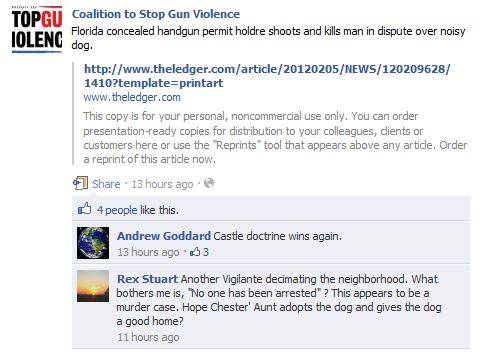 Now, you may want to take a couple of minutes and read the whole account at Ocala.com but the cliff notes goes like this: Dan Daley goes over Willie Chester's house, does not enter the property and asks him if he could do something about a barking dog that apparently he owned. Apparently words were exchanged and Chester told Daley to leave which he did. Then Chester left his property, went in the street, chased Daley and began beating on him. Daley cries for help, nobody responds and he produces a gun and shoots Chester four times resulting in his death. That is the narrative (minus some details) given by eye witnesses and the fact that Daley was not placed under arrest gives credence that the shooting might be treated as self defense.
Now, since Daley had a Florida Concealed Weapons Permit, CSGV automatically developed an erection against him. I think they pretty much stopped reading the whole article after that revelation so they are, once again caught with their panties in a wad and halfway down their legs.
But to make matters even worse, I did a quick check with the FDLE's Offender Data Base and came up with a Willie Chester, age 53, felon and lives in Ocala. Chester's address given at the FDLE's website is about a mile from where the event happened, but then again information has not been updated since 2005 and Chester apparently was not on probation or supervised release.
I am not saying just yet that the attacker and the felon are one and the same, but it would be a funny thing to see CSGV backtracking their righteous indignation.
Or the post may just disappear…