Yesterday, U.S. District Judge Benson Everett Legg ruled that the "good and substantial reason" requirement that the State of Maryland demanded to issue a cocealed weapons permit was unconstitutional.
But if the injury was not enough, the "insult" was even worse. After decades of the Antis demanding that the Militia part of the Second Amendment be used to determine gun right cases, it finally happened:
"In addition to self-defense, the (Second Amendment) right was also understood to allow for militia membership and hunting. To secure these rights, the Second Amendment's protections must extend beyond the home: neither hunting nor militia training is a household activity, and 'self-defense has to take place wherever (a) person happens to be,"
And that, apparently was not the application they were looking for and they are pissed!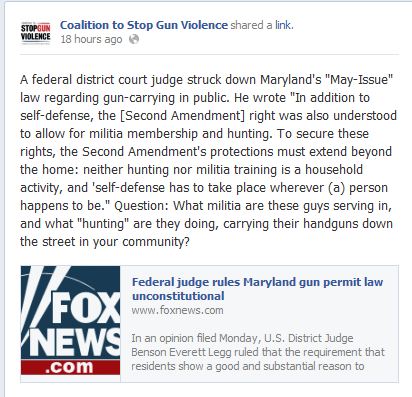 Ouchie. That has to hurt.