This apparently Left Leaning blogger ask the question "Who profits from the Treyvon Shooting?" and that is a darn good question.
I found sadly hilarious the graphic accompanying the post: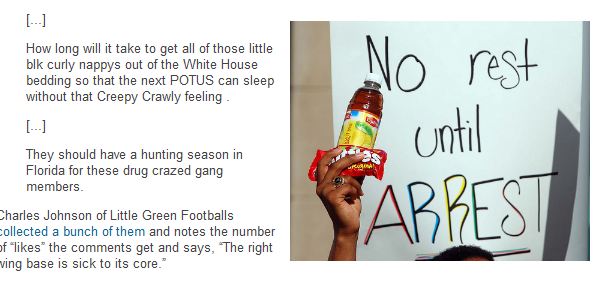 Iced tea and Skittles are being used by the demonstrators as a symbol of their "struggle." I don't know if the parent companies of both goods will see a substantial increase in profits, but one must believe that the local stores are indeed profiting from the protests.
Who else is benefiting? Arianna Huffington and AOL. The Huffington Post (That website that does not pay its writers) has to be racking an unprecedented amount of hits per minute and traffic worse than the Palmetto Expressway at rush hour on a Friday Afternoon. Advertising money should be coming hands over fists which will enrich Arianna even more and give the financially destroyed AOL some cash to make payroll for a couple of months.
Dead Tree Media and Analog Newscasters are also profiting albeit at a much lesser scale. Nielsen Ratings might be up some and some extra papers sold at retail locations, but not much more.
Twitter has to be buying new servers and paying cash for them. The warfare going in is amazing and if you pay attention to the extreme left and their desire to eliminate due process and their fervor for literally lynching Zimmerman, you'd go right now and buy any gun available and plenty of ammo.
And there are those who will eventually profit for the shooting of Trayvon. Lawyers come to mind immediately, Al Sharpton surely will make some bucks although I doubt MSNBC is gonna see any of it. Book deals, movie deals, etc.
I think that pretty much covers the cui bono part.