Since the news of the Trayvon Martin case exploded, the Miami Herald has been beating twice as loud on repealing Stand Your Ground, law they hated since it started in 2005 (Yes, seven whole years) and had been badmouthing ever since.
I thought they were ready for an article tomorrow saying "A non scientific poll by the Herald shows that 99% of South Floridians want the law eliminated." That the poll is within an article massacring the law is telling about how they want the results to go. Alas, apparently it won't happen.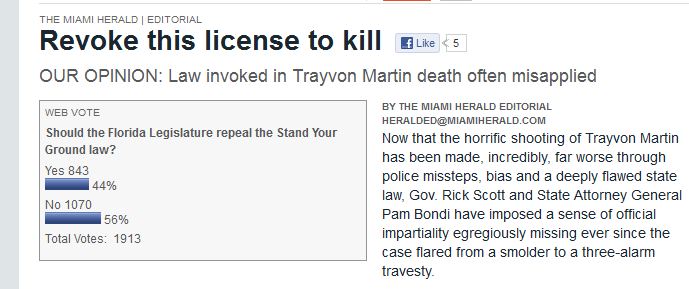 Drop by and have your opinion tallied.
The Herald has a long and illustrious history of having bad luck with feel good gun laws. Some years back and arguing in favor of Gun Free Zones, they declared to God & Country that the Miami Herald did not allow guns in its premises. First a reporter goes slightly googoo and brings a fake gun to the pit making everybody run for their lives and the subsequent police stand-off. Later a Miami commissioner who was the subject of a Miami Herald probe, went into the lobby of the building, called the reporter doing the story on him and while on the phone proceeded to shoot himself in the head.
If history repeats itself, it won't be long before a member of the editorial staff will be involved in a self defense situation and hollering for Stand Your Ground.
And we will be laughing at the hypocrisy.
UPDATE 3/27/2012
Not getting any better. People not buying the narrative.