Since I found myself out of .357 magnum to shoot Saturday's match, I had to rush and get me some. I reload so I am gonna take this opportunity to share a bit of what I do and encourage others to do it.
Reloading & Handloading is easy. You will obviously need equipment, but if you are starting and don't mind the extra work, used equipment is available. Some equipment is so cheap you really do not need to go the used way.
Let's start with case preparation. Unless you are buying your brass fresh from the factory, you are going to be using collected brass from the range. This brass will be dirty and will need a nice cleaning before going to the press. You really do not want dirt in your gun or reloading dies.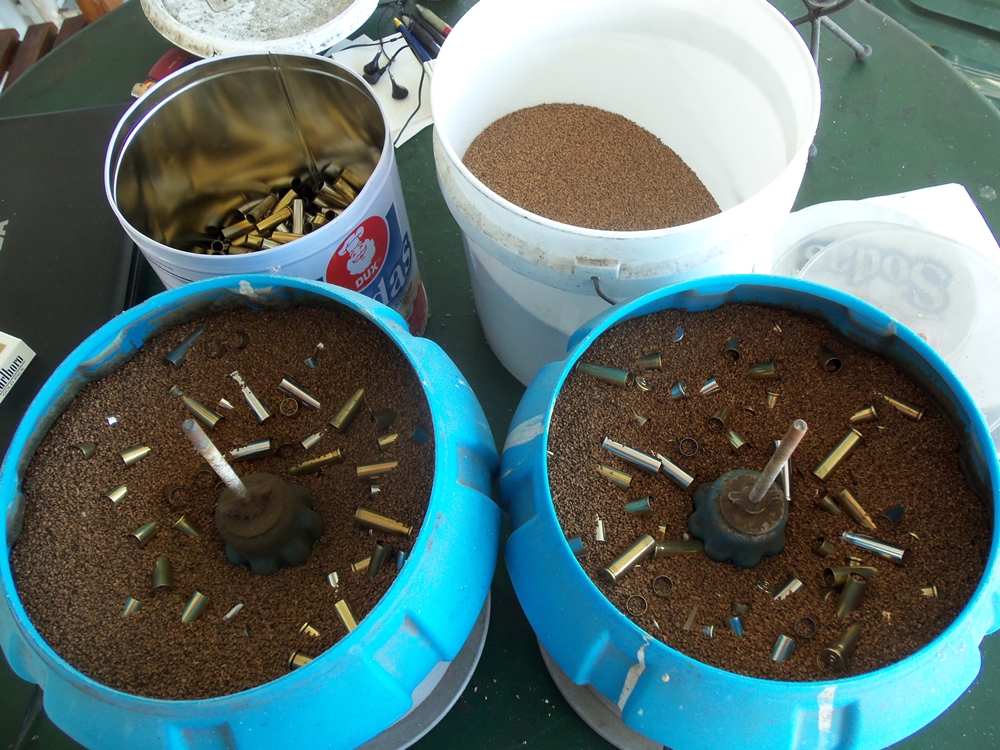 The two blue bowls bellow are tumblers. I got them used from a shooting buddy for a pittance and have served me well over the years. A tumbler is basically a covered bowl attached to a motor which makes it vibrate. Inside the bowl you have cleaning media (in this case crushed walnut shells I got from a pet store and that are way cheaper than the media you can buy at specialty stores) add your dirt brass, cover the bowl and start cleaning. I add a teaspoon of Brasso which helps accelerate the cleaning/polishing process. Depending on the level of filthiness, time of cleaning can go from as short as 90 minutes to four hours.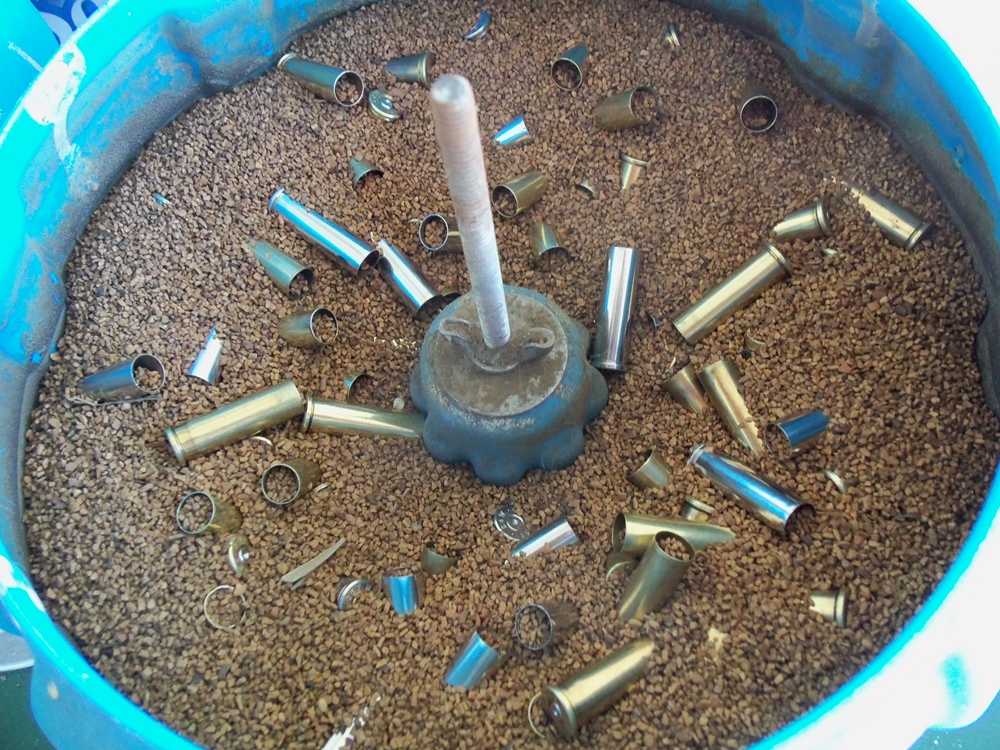 After the 90 minutes, the cases are clean and looking purty & shinny!. Now comes the separation.
Separation, as the name suggest deals with isolating the media from the cases. If you are really really tightfisted, you can use a pasta colander as media separator but it will require a good hand-eye coordination or you will have brass, crushed walnuts shells and a very pissed off significant other. Splurge some and by a proper case separator, they are not that expensive.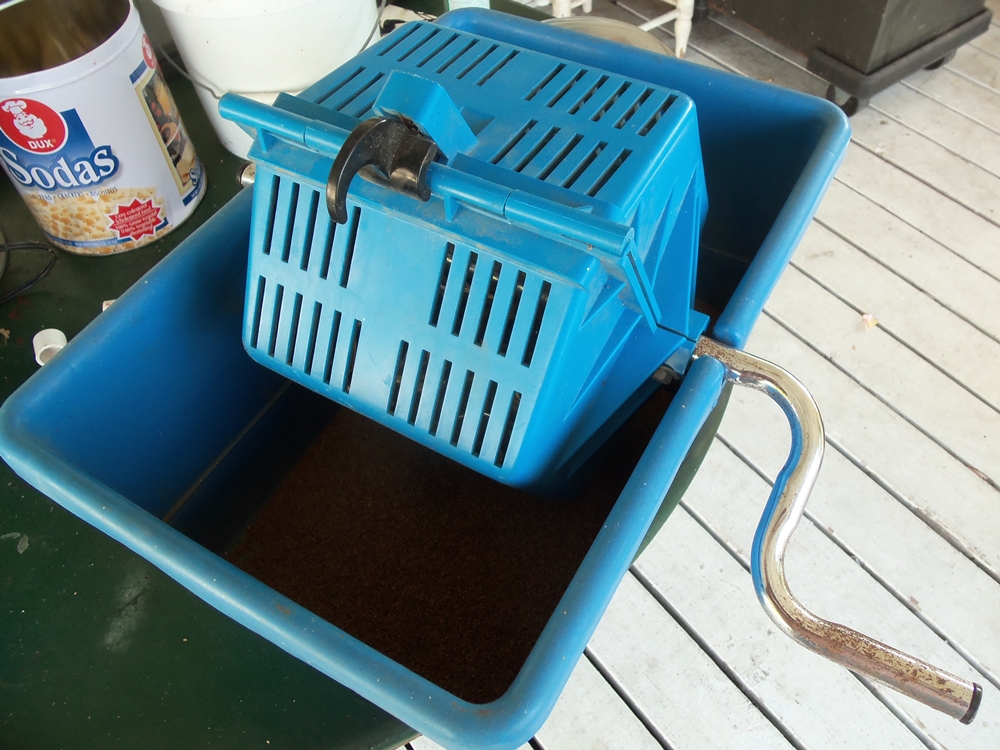 Yes! It does look like one of those bingo things and works on the same principle: You turn the lever, the whole thing goes round and round.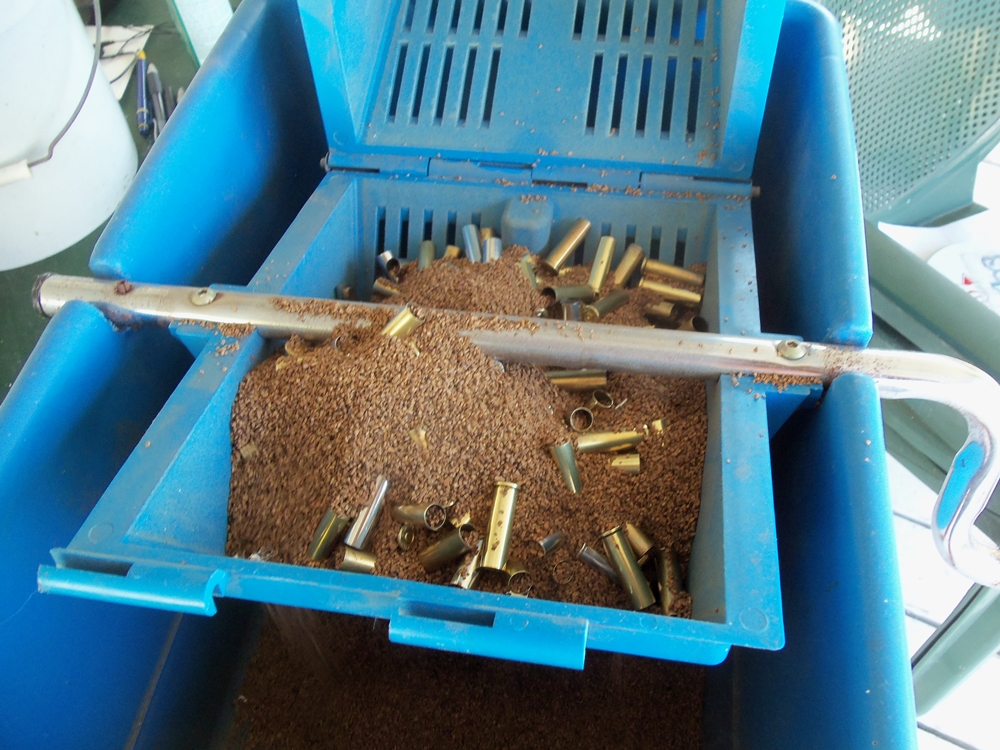 As you turn the handle, the media will leave through the slits leaving you with a nice batch of clean brass for your reloading needs. Just place your brass in a container and the cleaning part of the case preparation is over.
Note: Some people like to Resize & Decap first and then clean. I have done it that way and later find myself having to remove media from the primer pocket which annoys me to no end. To each its own.
More to come.