Scott refuses to ban guns during RNC convention  and the CSGV calls it "idiotic" and a "radical Interpretation of the Second Amendment".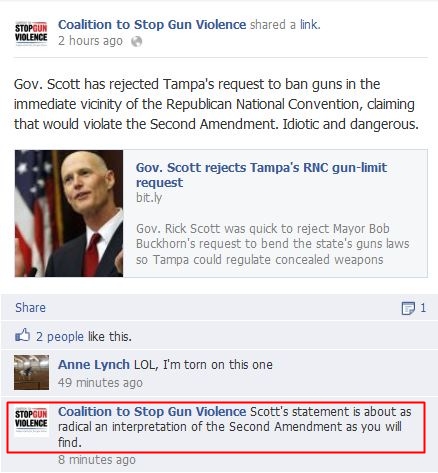 Normal people call it legal.
Plus, it is damn clear that the request from Mayor Bob Buckhorn (Democrat) is just political B.S. trying score points: Governor Scott says no ban and he is an uncaring bastard who has no regard for the possibility of people getting killed during a hot & contested political event like…Democratic Conventions? Oh yes, wrong party. If Scott had caved, then they could have said that even the Republican Governor of the GunSunshine State understands that banning guns in certain circumstances is not only OK but necessary, that Republicans are scared of their base and whatever other associated crap they can come up with.
UPDATE: Via The Buzz
Part of the response by Gov. Scott to Mayor Buckhorn:
"it is unclear how disarming law-abiding citizens would better protect them from the dangers and threats posed by those who would flout the law." "It is at just such times that the constitutional right to self-defense is most precious and must be protected from government overreach,"
H/T to fellow shooter Michael M.