Social Media is not kind to the Coalition to Stop Gun Rights Violence. We in the Pro Second Amendment side make jokes we burn their Joyce Foundation paid interns with awesome regularity because they end up saying the wrong thing and giving us more ammunition.
During a Twitter fight yesterday between Sebastian and the Intern-in-Turn, CSGV officially announced one of its classic lies:

Today however and latching on a tragic incident, they posted in their Facebook page the following: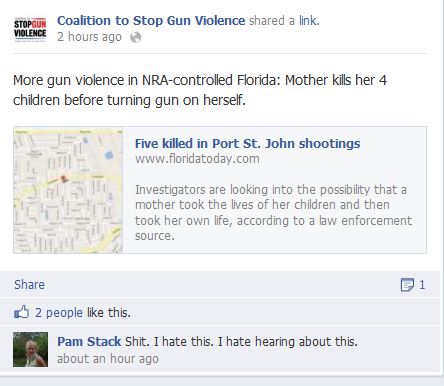 This sad Murder Suicide happened inside the house so why is CSGV worrying about it? They don't care if a house has guns or not, right? They should act like when somebody is murdered by a baseball bat, knife, machete or a woman is raped and strangled: they don't say a peep. Ever.
The next one is one more entry on the "Gun Nuts are Nazis and hate Jeeeeews!" meme. In their blog we find a post from yesterday titled Pro-Gun Activist Warns of "Zionist Instigators". Go read and have a double laugh since this is the same CSGV who on May 4, tweeted  the following:
It is Bizarro world: CSGV who has no problem with concentration camps are the good guys and those of us who would take up arms to avoid a new genocide are called Nazis.
But that is the kind of stuff that happens when you HAVE to lie to hide your true agenda. Control.