I saw this from CSGV last night.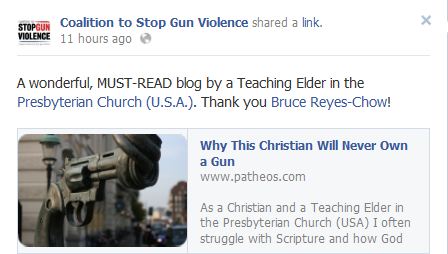 It turns out to be an article by our "old friend" Bruce Reyes-Chow. You can go ahead and read the article that is just a piece of typical self-righteous moral superiority. He tries to appear willing to compromise, but in reality he is just trying to run his "elevated" spiritual state on gun owners. Unfortunately for him, he falls for the Anti-Second Amendment narrative of "Gun Violence" which is another made up term just as "Assault Weapon" or "Gun Show Loophole."
And having partaken in religious activities with many a religious hypocrites in my life, I left him this short and concise message.