Liberals are going ZOMG about the Petitions for Secession in the White House's website. I did sign the one for Florida but I do understand that the White House will never abide by it. Think of them as a very polite notice of intent that a great section of US citizens are sick of the s*** from DC.
A counter movement is now afoot: Strip the Citizenship from Everyone who Signed a Petition to Secede and Exile Them. It reads:
"Mr. President, please sign an executive order such that each American citizen who signed a petition from any state to secede from the USA shall have their citizenship stripped and be peacefully deported."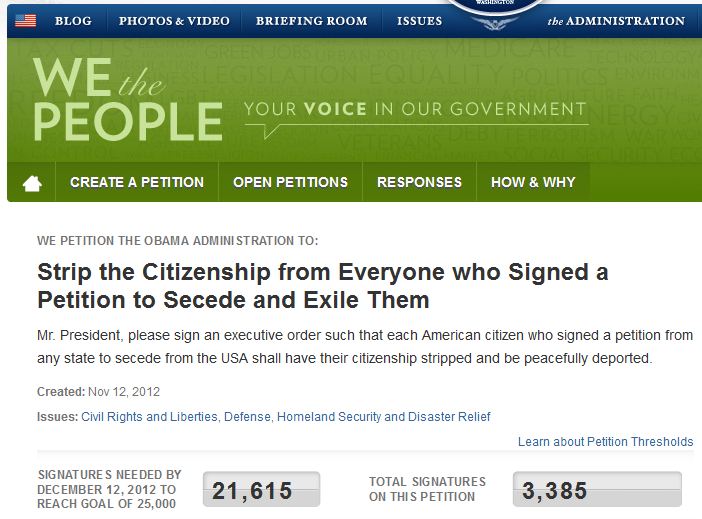 I  had to laugh. This fails in so many levels that I cannot count them all. Executive Order? What is one more in the 60 plus daily coming out of the Administration every day? If I am to be deported, I do want to be sent to the Republic of Texas (Don't laugh, check your history first.) Here is the even funnier part: I will sneak back as an illegal alien and get all the goodies I cannot get as a Citizen plus send all monies I may make back to Texas to my family. I know I will get a job and be paid well since I'll be doing the jobs that Liberals do not want to do such as…well just about everything since most of the remaining US "citizens" will be on some sort of welfare and depending from the Government.
I call that a WIN.
UPDATE: As of 5;40pm Florida got the necessary signatures so the White House can officially ignore our request for secession.