I have seen this graphic shooting around Facebook: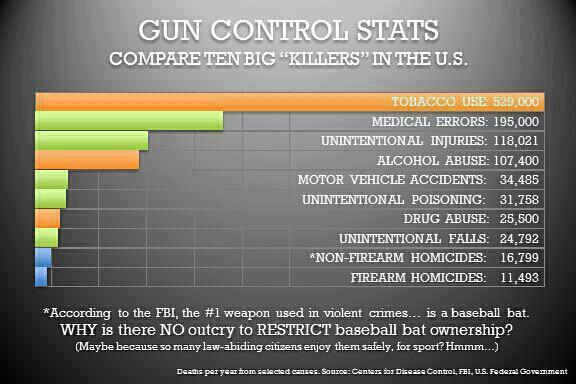 I have no idea who was the lame brain that came up with this thing, but it certainly does NOT help our cause to lie, specially when we do not need to because the stats are on our side.
Thirty seconds or less of Google-Fu produced the FBI UCR Expanded Homicide Data Table 8.  For 2010, the number of firearms homicides were 8,775 and not the 11,493 stated in the graphic. Non-firearms death according to my calculator come up to 4,221, way shorter than the 16,799 displayed.
I also checked for the baseball bat bit in the FBI UCR and I could not find it. I am not saying yeah or nay, so I reserve opinion on that one.
Seriously people, we don't need this crap. It is the other side that keeps making up stats and that is their downfall.