As you can imagine, the Coalition to Stop Gun Rights Violence has been so active propagating crap in Facebook that I really decided to ignore them. But this one was too good to pass up.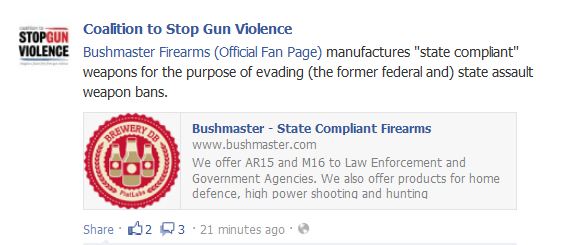 If you go to the Bushmaster page, you will see that they offer their products in different configurations as for you to check your local laws (if you happen to live in states that have the "ickies" for the regular AR set up) and select the one that matches the criteria imposed by the state. But since CSGV hates Ugly Black Rifles, following the law is actually evading it in their little twisted minds.
And yes ladies and gentlemen, these are the people who are gonna keep us safe with their rational conversation about guns.