Joshua is one of those acquaintances you make in the social media nowadays. Basically you connect with each other because of a common friend or interest. With Joshua was the defense of the Second Amendment. Smart young fella, former Marine and from what I can gather a gracious human being.
Friday, as sad as a day as it was, I saw a tweet on my feed and my heart just sank even deeper:
Yes, Joshua lives in the same community that was savaged by the atrocious against Sandy Hook Elementary school. What can anybody do or say from so many miles away? Just  prayer and wish he can withstand the pain I know he was sharing. Being the son of a Preacher visits the pains of many upon you, I am sure.
A while ago I saw these post Joshua again in my Twitter feed. This time it was my stomach that turned.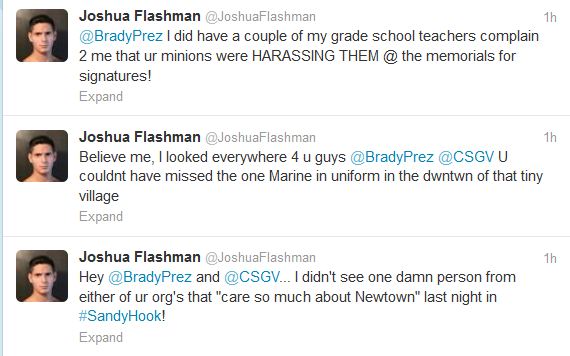 I am not even gonna comment on this.
But it even got better when Joshua twitted about the people reactions on Obama's speech as he politicized the sad event and how the media present where he was ignored the pain and disgust of those present. I asked him to post everything in one article and here it is in his own words.
————————————-
Here's something interesting 4 everyone out there: If u want 2 know how the people of Sandy Hook feel about our tragedy being politicized, this was the scene last night at the Iron Bridge, only a quarter mile from Sandy Hook Elementary, which is Sandy Hook's ONLY bar…
Everyone that couldn't get into the high school for the President's speech gathered there to watch the speech & get drinks. At the end of the speech, 3-4 people (myself included) clapped. When he read the names off, and what he said about our village moved me to tears, and I'm not ashamed to say that I was grateful to my President for it, even if I'm not his biggest fan. That didn't matter. HOWEVER… When we realized he was bringing up gun politics during the speech, things at the bar got REALLY REALLY UGLY…. People were yelling 4 the bar owner 2 "turn that shit off," shaking their heads & exclaiming in disbelief their anger that he had gone there. It's funny, because there were PLENTY of reporters and cameras there at the bar last night, and I even saw a picture of myself in a newspaper clapping & crying today.
But you know what… there was ZERO media mention in ANY news outlets about the Sandy Hook watering hole's reaction to Obama going political in his speech!!! Not a SINGLE news outlet reported that the ENTIRE BAR in Sandy Hook was completely disgusted that he brought up gun politics last night!!!!! I'm personally going to stay out of gun politics for now. I proposed a solution a while back after Aurora that possibly could have prevented this massacre from happening, but it never did and probably won't ever get enough attention or coverage to actually get brought to widespread public awareness. But this is too close to home. You won't here me talking about gun politics for a long, long time. I'm just going to call out and embarrass those that would politicize the horrific tragedy in the tiny village I grew up in.
—————————————
Remember, they have your best interests at heart.