A lie repeated a thousand times…


US Constitution, Article 3, Section 3. Treason against the United States, shall consist only in levying War against them, or in adhering to their Enemies, giving them Aid and Comfort. No Person shall be convicted of Treason unless on the Testimony of two Witnesses to the same overt Act, or on Confession in open Court. The Congress shall have Power to declare the Punishment of Treason, but no Attainder of Treason shall work Corruption of Blood, or Forfeiture except during the Life of the Person attainted.
We covered this before. CSGV loves to change the meaning of things to suit their purposes. I found this rather clear explanation of the Treason Clause and its application or rather, when it should not be applied.
The treason clause is a product of the awareness of the Framers of the "numerous and dangerous excrescences" which had disfigured the English law of treason and was therefore intended to put it beyond the power of Congress to "extend the crime and punishment of treason." 1283 The debate in the Convention, remarks in the ratifying conventions, and contemporaneous public comment make clear that a restrictive concept of the crime was imposed and that ordinary partisan divisions within political society were not to be escalated by the stronger into capital charges of treason, as so often had happened in England.
Treason: Definition and Limitations.
And it does not bade well when even one of their followers points out the obvious: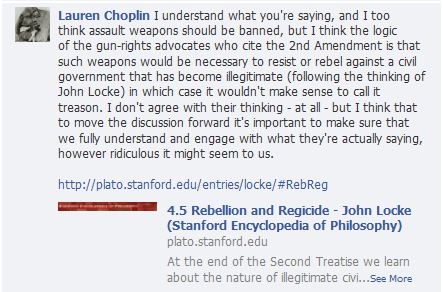 The sad part is that Gun Control Advocates thing it is not Tyranny unless there is a coup de etat led by some just-made general with a bandoliers of ammo across the chest. They fail to see the insidious nature of a soft tyranny that slowly erodes on your rights till you wake up one morning with all of them gone. It will be then when they will decide to do something about it and it would be too late because just the thought of doing something is "lawfully" categorized as the treason they supported on us.
Never forget what CSGV truly thinks should be done about the citizens of this country if they politically disagree with the Government.

Get your EBR before you get a free ride on the cattle train going East.