SFDB is a South Florida hipster blogger that pretends to be my particular troll. He is banned from this blog, but he can reach me via Twitter because he is fun to screw with. His latest attempt went (and still goes) like this:

His link comes from a Daily Kos article perpetuating Josh Sugarmann's attempt to muddy the definitions between Assault Rifle and Assault Weapon in order to elicit emotional response instead of reason in the "conversation about guns." (In the tweet I accidentally posted 1988 for the article but the year is actually 1998.)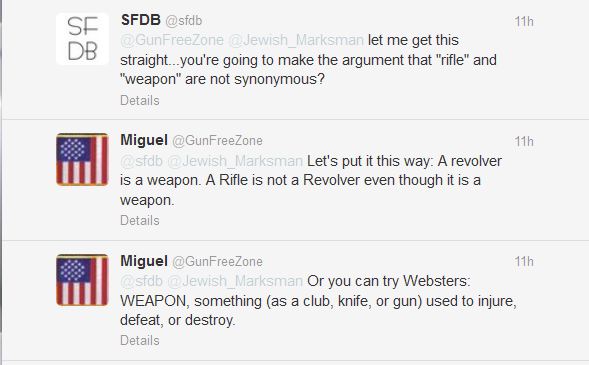 Simple, right? A rifle is one subset in the category of weapons, yet the Anti Gun Narrative paints weapon as only a rifle. Even the dumbest of the dumb has to get it and that is why I do not give credence that Gun Control Advocates are just "uninformed" but plain liars.
It is easy to see where this is going. But I love the way he stepped into the breach… and shots himself in the foot.

He links to Thesaurus.com result for weapon which is OK, but the conversation is about his point that Assault Weapon is the Same as Assault Rifle and frankly the Thesaurus answer ensures hilarity.

Assault Blowgun? Assault Harpoon? Assault Scythe? Assault Bowie Knife? But my favorite hands-down-heartly-laugh has to be Assault Banderilla: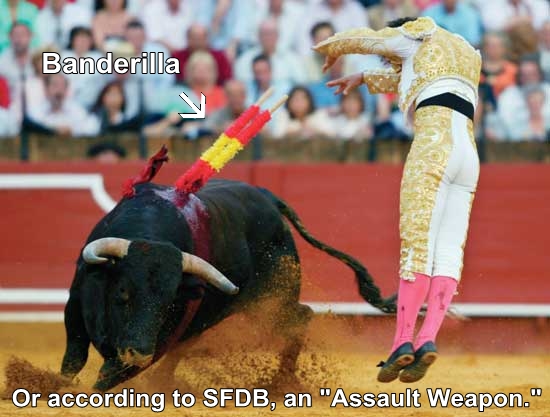 The term "Assault Weapon" has now become any weapon Gun Control activists want banned. There is no definition for the term on purpose: they can tailor it to fit whatever the hell they feel needs to be prohibited. From Henry .22LR Lever action rifles that can carry more than the magical 10 round capacity to the good old pump shotgun that happens to have a pistol grip, they are "Assault Weapons" because some legislator somewhere says so  and not because any technical or historical reason. Even SFDB cannot be stupid enough to confuse a pump shotgun with a select-fire rifle, but he will continue with the lie because that is the way gun control hipsters dubstep. (Hipsters don't roll…or so I am told)