This is the most I was able to find in Facebook just now (6:25am.) Nothing from the Bradys or CSGV…. mum/squashed/mute/silent/amnesia.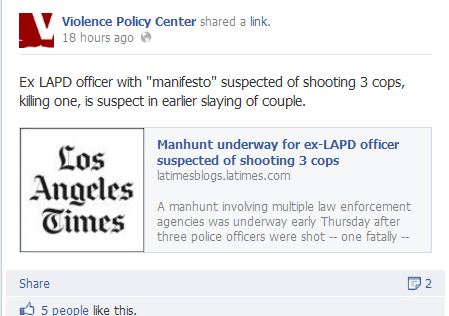 Former LAPD officer Christopher Dorner has killed three people so far and let's hope it stays that way. But do not try looking for his Manifesto in most Media Outlets because you will only get a short & sanitized version of it allegedly to keep those people mentioned in it safe. That does not make any sense since Dorner already knows who he is gonna target, right? So why they tried to keep the complete and uncensored manifesto from being read? Because the Left Wing rhetoric all over the manifesto including gushing fan words  like theses:
On the same day, give Piers Morgan an indefinite resident alien and Visa card. Mr. Morgan, the problem that many American gun owners have with you and your continuous discussion of gun control is that you are not an American citizen and have an accent that is distinct and clarifies that you are a foreigner. I want you to know that I agree with you 100% on enacting stricter firearm laws but you must understand that your critics will always have in the back of their mind that you are native to a country that we won our sovereignty from while using firearms as a last resort in defense and you come from a country that has no legal private ownership of firearms.
As you can imagine, Mr. Morgan is not happy about being associated with Dorner. But that is what happens when you push hate every day: you get hate pushed back at you. For Gun Control groups, Dorner is an embarrassment and a problem as they try to push their narrative. He was supposed to embody the qualities of the Only Ones that Should Be Allowed to Have Guns, mass killers are supposed to be Rednecks members of the NRA flying the Gadsden Flag and wearing overalls.
I hope they stop Dorner before he hurts any more people, then again I am sure he will not be stopped with a rape whistle or a tongue depressor or condiments.