Law Enforcement Targets Inc. came up with a series of targets under the banner "No Hesitation" representing several armed individuals that were not, shall we say the traditional image of Hollywood's bad guys. Cries of ZOMG! ensued.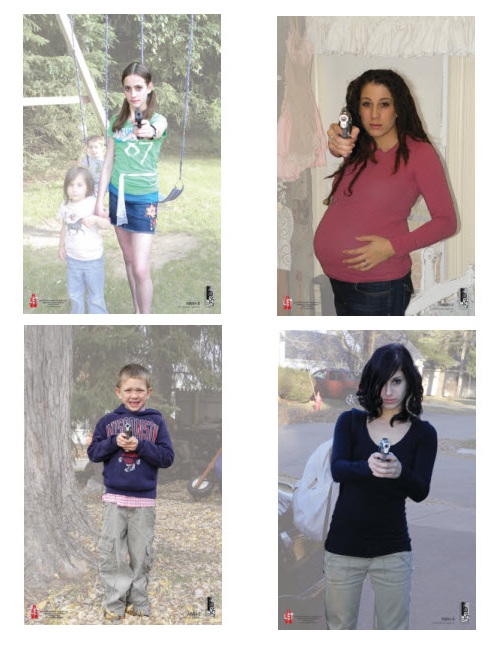 OK, now do me a favor and do this mental exercise: Describe what your future attacker looks like. I'll give you some time while humming theme from Final Jeopardy and remember, you are betting all the marbles here. You got it? Perfect mental picture? You ready to talk to a police sketch artist and come up with a composite? Good. Now, the bad news, that person ain't gonna be the one attacking you as he probably does not even exist. More bad news: If you design your self-defense strategy around just looks, you will end in prison, the hospital or the morgue*.
When and if you make the decision to defend yourself, it must be done because of the actions of the person against you not if they look menacing or dress in a way that is associated with the criminal element or wears hair in a particular manner, has lots of body art or any other superfluous detail.
So, who do I shoot is not important at all (that is if you wan to remain breathing on this planet) but rather when do I shoot so, I am gonna refer to Marty Hayes "What Every Gun Owner Needs to Know About Self Defense Law for the answer. In order to properly defend a self-defense situation, three things must be present: Ability, Opportunity and Jeopardy. Does the attacker have an object capable of inflicting death or great bodily harm?  Is the attacker near enough to make good on the threat to inflict death or grave bodily harm? Do you perceive that the attacker intended to carry out the threat? If these criteria are met, why should we add the burden of trying to decide if the looks or physical condition are some sort of factor that decreases the risk? We as Gun People celebrate when the weak, the elderly or the infirm successfully defend themselves against criminals, yet we refuse to believe that criminals can be anything other than healthy people, 17 to 25 years of age only. Most regular folks can push and kick the hell out of an unarmed junkie who is basically strung out, underfed and weak. But the same junkie with a gun asking to empty your pockets or else, becomes a real threat to life and we would not hesitate to shoot in self-defense.
Let's make it simpler: If when you look at the target you see age, condition, infirmity, gender or anything else but the gun pointed at you, you lost. Remember once again, our only "duty" is to make it home alive.
Ready for Straw Man & reductio ad absurdum.
* Credit for this mental exercise goes to Clint Smith as quoted in a gun TV show which I cannot remember now.