This is an example of the uppermost "intellectual Holy Grail" of the Gun Control Advocates.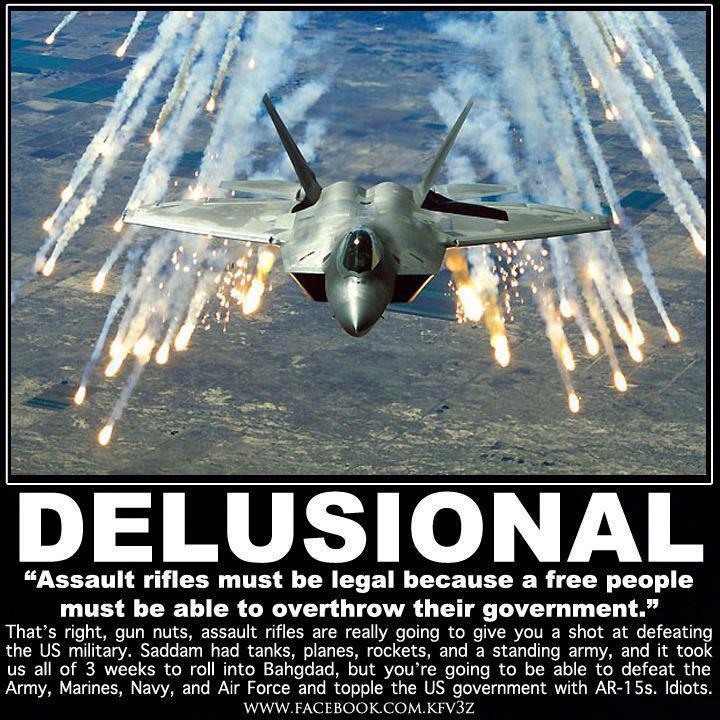 Let's set aside the fact that Iraq was controlled by a hated minority who was not sad to see Saddam go, that the country's population is about 10% of the population of the US, that only a very selected minority possessed guns and that even then with all the might of the US Armed Forces, it took an inordinate amount of time to somewhat control the 170,000 square miles of country which is about the same size as California.
Let's forget about all that for a second and let us concentrate on one fact that appears to be eluding the minds of the rabidly anti-gun: They will not be exempted from the heavy hand of an unchecked government imposing martial law across the land and kissing goodbye basic constitutional protections.
Yes, some of the best know Gun Control voices will be excepted from a free home delivery of ordnance or the inevitable trip downtown wearing the latest in steel bracelets (not from Zales), but the rank and file of the rabidly anti-gun will pretty much be in the same collapsing boat with the rest of the population. They will be arrested without cause, house & property searched without warrant, subjected to random checks on the street, will not be able to address grievances unless they desire a trip to a detention camp or accidentally be shot with real assault rifles if they fail to properly obey orders.
And of course and as extra bonus, they will get the hearty thanks from Gun Owners who will officially consider them allies of the new regime. And trust me, the thanks will not be a cute Hallmark Card with a cute photo and witty caption inside. Well, maybe one catchy caption:
For they have sown the wind, and they shall reap the whirlwind.