The shocking death of a 4-year-old girl — shot dead with a handgun inside a car outside her grandparent's home — zeroed in on two issues Sunday:

How did the gun that apparently killed little Rahquel Carr get into the hands of a group of children? And who owned the weapon?

via Police investigating a Northwest Miami-Dade shooting that left 4-year-old dead – Miami-Dade – MiamiHerald.com.
So far it is unclear where did the kids get the gun, but for this particular post let us assume it was inside the vehicle.
I don't have kids but one thing as sure as God made little green apples is that kids will find something they are not supposed to find when you are not looking. If you have a gun, it is your responsibility to make sure it is not easy to be retrieved by unauthorized parties when you are not in control of it.
It is no longer enough to lock the gun inside the car. The kid can get to the remote when you are not looking and opening the vehicle to go play inside. We have now designed cars as children playgrounds with DVD players, games, etc, so it is not unexpected that little kids want to go inside if other options are not available or they are just bored. Leaving the gun under the seat, in the glove compartment or the center console are not the most smart of options, specially if you keep the DVDs or controllers there.
So, what should you do. Amazingly the most obvious is the one most ignored: keep the gun with you at all times. That means if you do not have a concealed weapons permit, get one! A gun securely stashed in the holster stashed in your hip will go nowhere unless you let it. Purses, fanny packs and other off-body methods only work if they are being worn, not hanging from the back of a chair or relegated to a top of a dresser.
If for any reason (logical) you cannot carry, get a car safe. The requirements are simple: It has to lock, it cannot be opened easily, it is a sturdy box and it is not easy to remove from the car. There are scores of small car safes in the market catering to every budget so there is no excuse for you not to get one.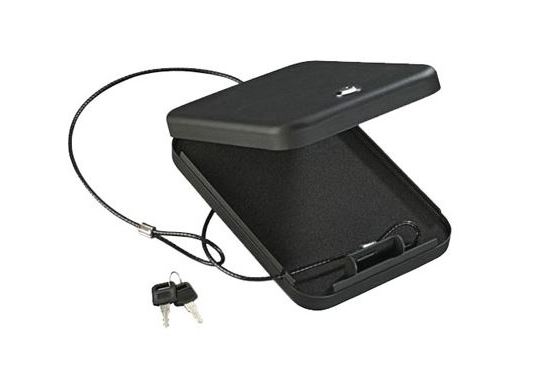 This is the simplest & cheapest type of gun safe for car available in the market. Made out of steel and comes with a cable that allows it to secure it to the base of a car seat or any other hard point inside the vehicle. You can find it just about anywhere in the interwebs for under $30. That is cheap insurance to avoid a fatality.
Get your damned gun secured, would ya?