From my too ignored friends of the Coalition to Stop Gun Rights Violence: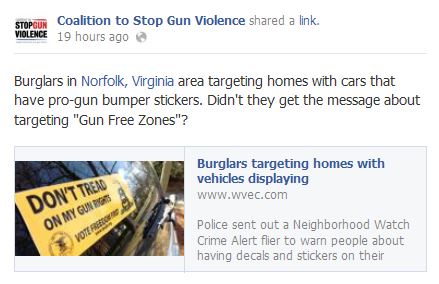 If you go to the actual story, you find out that according to Norfolk police apparently there was ONE guy that says he targeted homes in Virginia Beach with cars sporting pro gun stickers. The kicker is that Virginia Beach PD said there was no problem with that. If I am not mistaken, Norfolk is a very anti gun locale so take their Neighborhood Watch alert with a grain of Beano for BS.
Old School Internet guys will also remember that this was one of the earliest and pre-Snopes tall tales making the rounds in the Newsgroups and chain emails alongside the 3 cent email tax, the young girl dying of leukemia if you didn't forward the email and Bill Gates giving you a million dollars for some stupid stuff or another .
It is fun to see that recycled and eaten by CSGV though 🙂