This is not gun-related but at the same time it is a teaching moment. Take a look at this pic: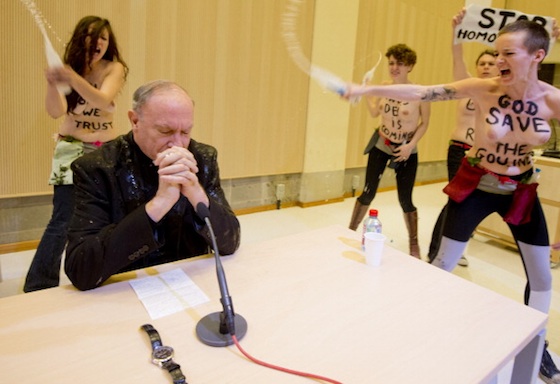 And the story for context from Hot Air:
A group of naked women bum-rushed Belgian Archbishop Andre-Joseph Leonard while he was speaking in Brussels and doused him with water from bottles shaped like the Virgin Mary on Tuesday.

The women were reportedly feminist protesters from the Ukranian-based FEMEN group, which is known for organizing topless protests against the Catholic Church and others.

According to AFP, the four protesters charged the archbishop during "a debate on blasphemy and freedom of expression held at the Brussels' Free University (ULB) campus Tuesday evening, baring their breasts and squirting water at Archbishop Andre Leonard as they accused him of homophobia."

Photos of the event show Leonard patiently sitting quietly with his eyes closed and hands folded in prayer as the women empty bottles of water on his head and clothes.
Powerful image. The hate displayed in the faces of the women and the passive posture of the Archbishop resonates deeply. No matter how good or truthful the message the women were trying to publicize or even if the Archbishop is a true hater, the guttural reaction one gets is that hate came topless to that occasion. Those women lost control of the message and a ton of points among the regular people.
Why do I bring this? We are now revving up for a new round of Gun Control efforts. We Gun Owners will be vilified like never before and with the full force of the Main Stream Media supporting the efforts. They will set us up and try to make us look like brutes, inbred morons that cannot be trusted with such dangerous artifacts. We are to be the Negroes of Jim Crow legend, the wearers of Yellow Stars and Pink triangles in old Berlin, suspected Japanese in the interned in camps on the West Coast of Franklin Delano times. We cannot afford to give them a chance by losing our cool no matter how much they poke at us.
But we are not naked. Technology now places a video camera in almost every phone where we can gather evidence and upload it to the never-ending webs before the TV crew makes it back to the station. (I do need to get me a darn smart phone) We can fight back and we can use the most powerful of weapons: The Truth.
Just be cool and smile, don't fall for their tricks, probes or pokes. They are looking for a bad reaction to display during the nightly news and have a bunch of politicians and gin grabbers say "See! Told ya so!"  We carry, we own and we have learned to be patient, that alone will drive them nuts; being polite will unhinge them…and that is when we get our pics and videos.
Anyway, I hope you guys and ladies had a nice rest 'cause we are facing another round of stupidity by the Antis.
UPDATE: I guess I did not make myself clear enough in here and in the comments and they degenerated into a Gay Marriage argument that was NOT the intention of the post.
Comments are now closed for this post.