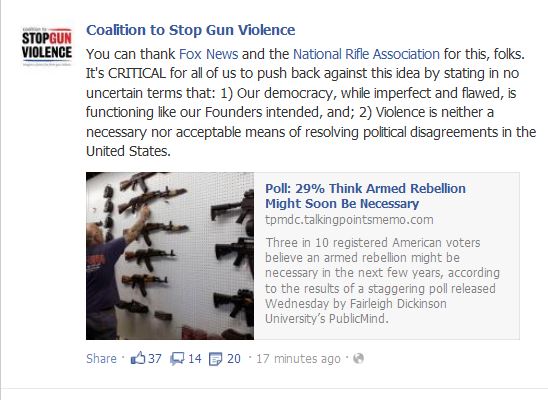 First, there is no Our Democracy: We are a Constitutional Republic and not quite functioning like our Founders intended when we have a government and its 4th rated flunkies like CSGV trying to make Gun Owners some sort of dangerous second class citizens and targets of hate speech. Now, you can give up the spiteful rhetoric and help us find the way to control the dangerous elements of this Society we live in or you can continue to push the wrong buttons on the wrong people and force us to use the solutions provided by the Founders.
You were given the Soap Box and could not sell your message.
You were given the Jury Box and kept losing your cases.
You were given a chance at the Ballot Box and didn't like the results.
Do you really want to go try the Bullet Box unarmed?
It is simple: Stop poking the bear. If you don't, don't bitch if you get mauled.
The message has always been simple: Leave Us Alone.