This is hot off the Facebook presses. Apparently Glenn Beck is hated by the Laddites at the same level as the NRA so putting both together is like the perfect storm for them to basically behave like a lynch mob. I just copied and pasted the comments that you see below the pic as I did not feel like doing a screen cap.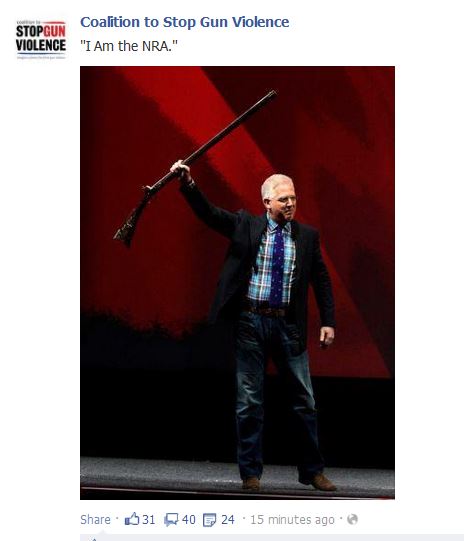 Robin McClary

This doesn't make you look like a good, caring, compassinate man. It makes you look insane, psycho, evil, and a fool, for what you represent, standing there with a weapon in your hand. Who cares if you are with NRA? Does that make you powerful! It simply makes you sick, unreasonable, irrational, power hungry, and narrow-minded.

Joan Tinsley

Actually this is a great gun to own you know. It is a single shot flint lock gun. Not one of those that shoot hundreds of bullets in under 5 minutes.

Papri Chatterjee

He will hill himself or someone in his family with that very gun…still there will be no shame.

Tracy Burridge

I bet he cried during the event. Him and Boehner keep tissue makers in the black. Strange that black is clearly not their color. Based on their hatred of Obama.

Timothy Fleming

"AND I AM ALSO A MASSIVE JERK AND ANTI-AMERICAN FUCK-UP" signed:Glenn Beck.

Sarah Walton

Is that Glen Beck? Huh. Fascinating. As an ex-Mormon I was taught that Joseph Smith said we shouldn't own guns. His thought was, if you have one, you'll end up using it. Kind of a good philosophy. I wonder what Beck would say to that? This image is disgusting.

Brad Freisner

Well that's a scary thought. Crazy Glenn Beck as a voice of the NRA.

Chuck Amendola

The Pigrims settled this country with Diplonacy, not guns. Guns were for defense not aggression, beck, you effing a-hole.

UPDATED: These came in after the initial post, hence the difference in times.

Joseph Oroza

I'm sich of guns, right wing nuts, republicans, shitheads and assholes like Glenn Bech and Sarah Cunt Palin. Fucked up times we are living in!!

John Wolforth

He's actually pretty smart, but has no conscience, since he uses his abilities to play his followers like a flute, making millions in the process. A shining example of the types that will exploit anything to be rich. Like Congress.

Katherine Kaufman

Is that a musket? Guns don't look like that anymore, which is why we need different regulations. Kinda like cars. They're a little faster, bigger and more dangerous than the Model T…..

Chuck Amendola

Shirt, tie, jeans and cowboy boots. Talk about pandering to the audience.

Karen Jaeger Tinker

And this is the NRA. Who would want to be part of this insane and criminal enterprise?

Boris Beckham

Is that Glenn Beck? How frightening is it that a mental case like him has a constitutional right to own a gun? Terrifying.

Ron Setterberg

This is the gun the second amendment is about. The laws say that the well regulated milita the men must be 18 years old have a flitlock, enough power to shot the 8 musket balls they were required. So I agree with this nut cup if he is the nra and that is their gun we will be safe as they cant reload that fast and we can disarm them.

Katherine Kaufman

John, he's a fat, dry drunk/addict, narcissist, cynical creeper. Pay no attention. He's not smart, he's paranoid.

James Ash

Can you imagine how many children would still be alive today if these assholes were still only allowed to have a flint kick musket?

Chuck Amendola

Guys like him are the reason Psychiatry had to evolve. And many new sicknesses have been discovered. He gives "retards" a bad name.

Sue Stewart

this is so stupid…little boys and their toys…no one has said they were going to take your precious gun away…but i doubt seriously any one of you could pass any kind of mental awareness test that should be required to possess a weapon that can so easily kill without feeling a thing for the victim…bullies…all of you…one on one…you're still scared shitless of the word "VAGINA"!!!!

Hap Klein

But you have to admire their ability to recruit belly scratching louts into one coalition. I understand nearly half the new recruits actually own and have actually fired guns.

Most of them are constitutional patriots.

James Berenguer

I am also a fear mongering conspiracy theorist who would sell his soul to the devil for a chance to sell you "survival seeds"..but that is neither here or there.

Levy Payne Schroeder

If he's so adamant about defending American's privileges, why didn't he serve in the military?

Aviva Luria

If Glenn Beck didn't have his own TV/radio programs, he'd likely be in prison.

Stephen Trask

I thought everything was supposed to change when he had his phony National Mall rally two years ago?

Douglas Parfait http://www.funnyordie.com/videos/0433b30576/cold-dead-hand-with-jim-carrey

Cold Dead Hand. Don't be afraid. It's just a funny little song.

Kenny Russ

Beck is against everything I stand for.Can barely stand to look at this fake.

Tom Innis

The quasi-religious, revivalist atmosphere at the NRA convention represents the height (depths?) of Christian hypocrisy.

Cathee Sweet

y'know he kind of LOOKS like the NRA–out of touch, unappealing, dorky, his pants pulled up over his belly and into his crotch and cinched TIGHT with a belt, and that unmatching shirt and tie with some hand-me-down looking suit jacket–is it black pinstripes? with a plaid shirt and clashing blue tie and brown shoes? Really? did he dress in the dark, or did the Bad Taste Fairy hold him at gunpoint and force him into that outfit?

Danny Gwyn

Judging from that gun he's holding, he must think he's George Washington!

Michael Case

Glenn Beck. The 21st century equivalent of the guy who sold morphine laced whiskey as a cure-all out of the back of a wagon to the rubes in town in the 19th century.
Amazing! And we are supposed to trust these people? They have America's best interest at heart? They are peaceful? Open minded? All inclusive?
If anything they are a powerful motive to stock up on rifles and ammo.