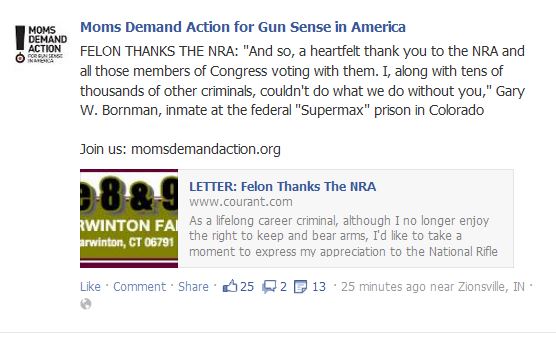 Just like their brainless partners at the Cult Coalition to Stop Gun Rights Violence, MDA desperate seeks vindication by any way or any body. So if a felon in a Supermax prison writes a suck up letter against the NRA, they desperately cling to it as if it was the Holy Scriptures.
Never mind that Gary W. Bornman was convicted to 20 years for bank robbery, the last of his 81 convictions. Never mind that the judge had to conclude that he was beyond rehabilitation. Never mind that he liked to write to newspapers and brag about the crimes he would commit as soon as he was out of prison: "So the next time you hear of someone committing some horrendous crime, it could quite possibly be me they're talking about," he wrote. "Only don't say you weren't forewarned." Never mind all that, he said something bad about the NRA so he must be OK. He is their new hero!
Tack up another difference between the Anti Gun advocates and us: We do not like violent felons. We prepare against violent felons. MDA and CSGV love them felons and hate us.
That says a lot about their priorities in life.
PS: When you see MDA, understand that I refer to Moms Demand Action and not MDA as in the drug 3,4-Methylenedioxyamphetamine, an hallucinogenic which is the first cousin of Ecstasy and makes the consumer see things that ain't there,…OK, never mind.