CSGV desperately searched the interwebs in a quest to avoid apologizing to Gun Owners they insulted with their accusations about the Ricin letters to the President and the Pasha of NYC. One of the pics they found was this one: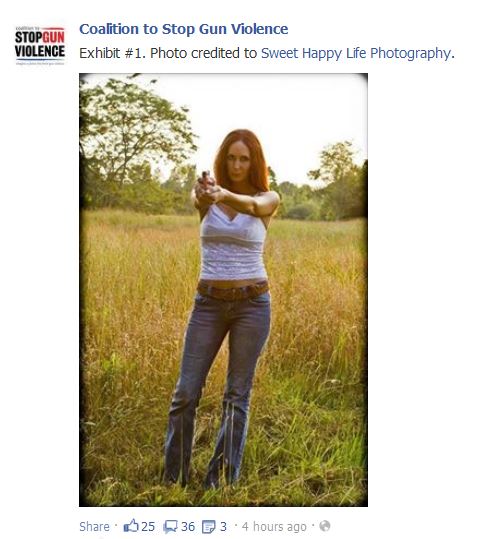 But that is not what called my attention but one of the comments by  Laddite Paula Villalobos:


She looks weak to me, trying desperately to get out of those bad and probably abusive relationships. Women should be portrayed instead as empowered with good self esteem, not with a gun and looking weak.
Self esteem will stop a rapist or a murderer because they will be blinded by the awesomeness of the woman feeling good about herself being unarmed. (can I have a facepalm?)
According to Ms. Villalobos, a woman who fended off three attackers with her gun is a weak woman. The 26 Year Old woman who was being stabbed by a nutjob and managed to use her gun to stop the attack is a weak woman. The mother who used a shotgun to kill a home invader is a weak woman. The mother who used her shotgun to defend her kids is a weak woman. The woman who used her pistol to defend herself from a man dressed in all black who had broken into her home during the middle of the day is a weak woman. And even the 72-year-old grandmother who used her .22 gun to keep two bad guys in check till the police arrived is most certainly a weak woman.
But of course, Self Esteem works. Just ask any cop what caliber of Self Esteem they carry.
Ms. Villalobos, I do wish you a long happy life without having to defend your life or the lives of those you love.
Hat tip to Guns Save Lives for all the links about women defending themselves with (gasp!) guns.
PS: I keep forgetting to bring the definition of Laddite back for the new readers. My thanks to Don for kicking my memory butt.