Out of An NC Blog, I finally found the Slate list that the riders of the Yankee Vulture Bus use to read the names of people who dies of "gun violence." Since it is a searchable database, I did a quick look for Miami and found some interesting things:
Eric Fussell: Shot in a car with companion Joshua Whack (also in the list) and according to the local NBC station "Whack had a lengthy criminal record, mostly for cocaine charges, dating back to 2004, according to court records. Fussell had been arrested previously on fraud, marijuana and cocaine charges, court records said."
Remember, Bloomberg & Slate. are trying to sell you that they are doing this to save innocent victims, but they have no problem adding the name of veteran criminals to the list to pad it.
Dell Peter DiGiovanni: Suspect in a shootout with police as they were investigating drug trafficking and opened fire on the officers. Here is the rub: Dell Peter DiGiovanni hung himself. Must have used bullet rope or something like that.
MIAMI (CBSMiami) – A man believed to have been one of three people who got into a shoot out with police in front of a burning home in southwest Miami-Dade Tuesday night was found hanging from a tree.Wednesday afternoon, police confirmed that the body of 50-year old Dell Peter DiGiovanni hung himself on a tree in front of a home at SW 147 Avenue and SW 48 Terrace.
Carlos Zuniga: This one I find particularly disgusting that this case got included. Carlos Zuniga murdered his 11-year-old son, wounded his wife and daughter and then committed suicide. This bastard is not a "victim" of "Gun Violence" but he dies by using his own gun on himself so it is good enough to be used in the Yankee Vulture Bus solemn readings.
Milton Devon Johnson: This one takes the cake because he was an armed robber who found out the hard way that armed victims are not quite defenseless. Yes, Milton Devon pulled a gun on somebody to rob him of his possessions and got a direct ticket to the morgue for his efforts. Now, I can see why Bloomberg & Slate would see this guy as a victim, how dare a citizen use deadly force to defend himself from an underprivileged American just seeking to do some amateur wealth sharing?
Joe White III: So what this perfect example of human being was doing when he was shot to death? Praying in church? Helping old ladies cross the street? Feeding the poor at a soup kitchen? Nope, he was shot by the police after stabbing three women, members of his family.
Marcial Martinez: It is never a good idea to pull a knife on cops as they tend to shoot you right where you stand and that is what happened to this subject who was involved in an argument, police was called and apparently Mr. Martinez decided that he was too macho to obey police orders to drop the knife. Are you guys getting the sense that Bloomberg & Slate really do not like cops at all?
Next I present you with Mr. Unknown. I am not kidding. He died on 6/11/2013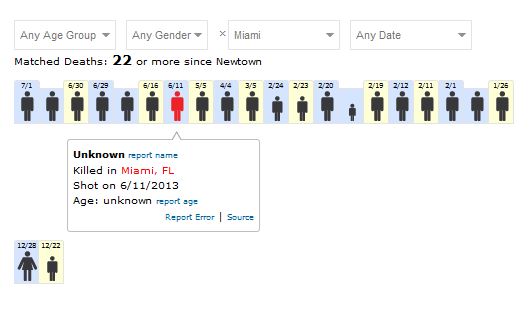 Then on 6/29/2013: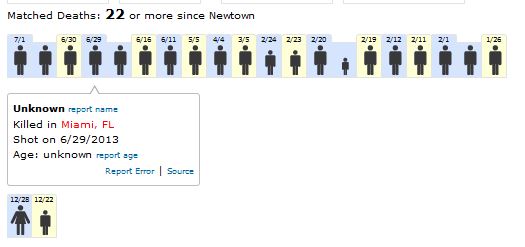 And finally on 6/30/2013.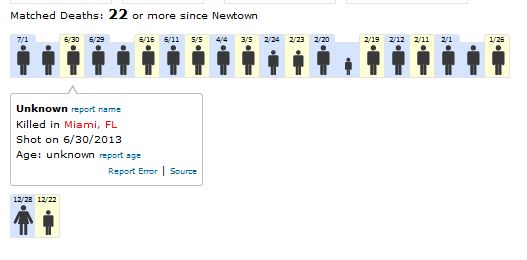 Must be an outbreak of the Undead that I have not heard about.
The database showed 22 results for Miami, four of those were for cities/towns in Oklahoma and Ohio with the same name. Six were either criminals or people committing crimes, three were "unknown" whatever the hell that means which leave us with six confirmed innocent people who were real victims of violence perpetrated with the use of a gun. Leaving the "Unknowns" aside, we have six real victims and a set of six less-than-stellar citizens which means the numbers for Miami were padded 100% by Slate and propagated by Bloomberg's Yankee Vulture Bus.
I know I repeat myself but: If their cause is so righteous and just, why lie?
Because it ain't.