And my dearest folks at the Cult Coalition to Stop Gun Rights Violence did not disappoint me. Fresh off their Facebook page: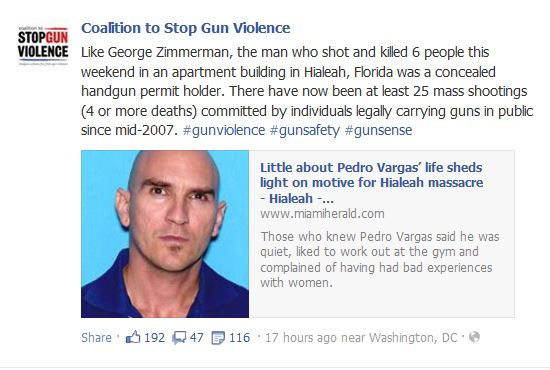 Now, we are all adults here and figure we are gonna have an idiot or two that will obtain a CWP and go do crimes. But it is amazing that the only reason that a person with a CWP would commit is the gun and the evil spirits that inhabit its molecular structure and take over the person holding the gun. There cannot be other, normal reason like Steroid Rage.
Bagos said Vargas complained of bad experiences with women, and blamed his hair loss on steroid use.
Nah, who has ever heard of steroids making people crazy? That is just a myth invented by the NRA. The real reason is those evil spirits mentioned before that will darken the soul of even the saintest of people and immediately transforming them into killers.
The Stupid: It can't be fixed, but maybe we can sedated it just a bit.