Again, thanks to our dear "friends" from CSGV: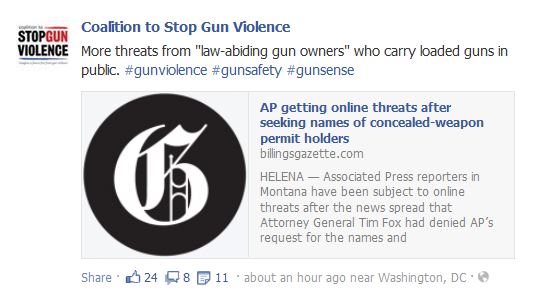 HELENA — Associated Press reporters in Montana have been subject to online threats after the news spread that Attorney General Tim Fox had denied AP's request for the names and other information about Montanans with concealed-weapons permits.

On July 30, the AP filed a report with the Helena Police Department over the online threats, said Jim Clarke, AP chief of bureau for Colorado, Montana, Utah and Wyoming.

Clarke declined to elaborate, saying: "The AP refrains from ever publicly discussing security matters affecting staff, and that goes for war zones such as Kabul as well as locations in the United States."

Some online commentators have published the names and addresses of AP reporters in Helena, while another ran a Google Street view photo showing the house owned by one AP newsman here.

One online threat on a blog said, "If only someone could release the names of the AP reporters, where they work, their home addresses, names of family members, where their children go to school and what kind of car they drive with the license plate number."

via AP getting online threats after seeking names of concealed-weapon permit holders.
So basically, if a "reporter" ask for name-address-assorted info on somebody to publish, it is OK because..you know, the people have the right to know. However if the People do publish the name, address and other information about a journalist, then it becomes a terrorist threat and law enforcement must come to their rescue.
Sometimes I wonder if it is a requirement by News Organization that their reporters be purposely dumb. It is not like this is the first time some idiot with a press badge has tried to obtain the list of CWP holders and it always ends up backfiring big time. Still, no single news apparatus has sufficiently explained what is the "public interest" in releasing that information other than political gotcha and the person's sense of "I am special, I can poke you whenever I want because I am a protected species."
Let's hope this is a reminder that Information is not the exclusive purview and distribution by those with a press badge. Or simply put: Stop poking the bear.