Bring out the fireworks! (NOT!)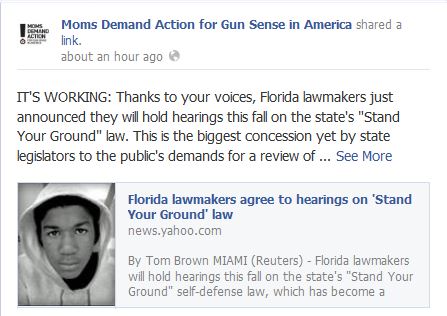 And according to the news bit in Yahoo, the hearings may happen.
MIAMI (Reuters) – Florida lawmakers will hold hearings this fall on the state's "Stand Your Ground" self-defense law, which has become a lightning rod for criticism following the acquittal of George Zimmerman in the shooting death of unarmed black teenager Trayvon Martin.

The announcement on Friday by Will Weatherford, the speaker of Florida's House of Representatives, marked the biggest concession yet by the state's Republican leaders to protesters' demands for a top-to-bottom review of the law, which allows people in fear of serious injury to use deadly force to defend themselves rather than retreat.
Except, that the Sun Sentinel caught something that is not a cause of celebration for the haters of Stand Your Ground:
For a brief moment there, Florida House Speaker Will Weatherford stood apart from Republican leaders in Tallahassee by saying he would convene a legislative hearing on the state's controversial Stand Your Ground law in the wake of the George Zimmerman verdict.

But after suggesting that lessons might be learned and changes made to protect the innocent, Weatherford quickly dashed hopes by choosing one of the law's biggest supporters to chair the hearing.

So much for an objective review of the law's unintended consequences.

Consider what the committee chair, Rep. Matt Gaetz, R-Fort Walton Beach, told the Tampa Bay Times after agreeing to lead the hearing: "I don't support changing one damn comma of the Stand Your Ground law."

"It would be reactionary and dangerous to make Floridians less safe to pacify uninformed protesters," said Gaetz, who chairs the House Criminal Justice Subcommittee.

So there you have it. A committee hearing with a foregone conclusion.
The article goes on admitting that there is simply too many people who support Stand Your ground laws to make a change feasible or even something to consider a thought. They will continue to go after it as Assault Weapon has lost its luster and Universal Background Checks are getting old. They need a new product to hate and the Zimmerman verdict (even though SYG had nothing to do with the case but who are we to challenge The Narrative) is still fresh enough and lied about enough to have some legs.
And we will be there come the Fall, just in case.