The National Gun Victims Action Council, being such an almost non-entity in the field of Gun Control Advocacy, must make itself somewhat relevant by being strident.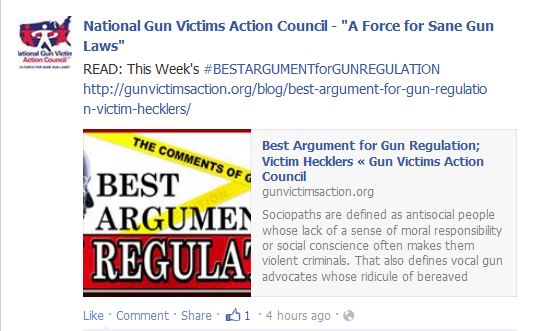 Sociopaths are defined as antisocial people whose lack of a sense of moral responsibility or social conscience often makes them violent criminals. That also defines vocal gun advocates whose ridicule of bereaved families is legendary. Tom Mauser, father of Columbine victim Daniel Mauser, was heckled at an NRA meeting in 2004. Linda Jenkins, whose pregnant sister was killed by gunfire, was heckled by gun advocates at a public meeting in Chicago this year. And last week gun lovers descended upon Newtown, flaunting their weapons, to "thank" Starbucks for allowing guns. Shameless, sadistic and with hair trigger tempers, these gun "leaders" are the best argument for gun regulation.

via Best Argument for Gun Regulation; Victim Hecklers « Gun Victims Action Council.
Wow! What can one say to this "deep" and "insightful" psychological analysis? Mind you that during Starbucks Appreciation Day there was not a single case where a "Shameless, sadistic and with hair trigger tempers" vocal gun advocate engaged in any kind of "gun violence", committed crimes or performed ritual massacres with guns or pretty much any other device.
But this won't change the minds of the Cultists behind Gun Control. Elliot Fineman is just saying what the rest of the groups are thinking about is but have the understanding that announcing it to the world will make them look stupid and petty. They are getting desperate and that is good as the level of stupidity on their part will increase and more mistakes will be made.
You cannot accuse your enemy of being a foaming-at-the-mouth psycho when you got malicious suds dripping from your jowls.