Note: This post was originally schedule to appear on Monday as this week had a glut of articles and events already posted. But they done tick me off.
Caught this in Facebook: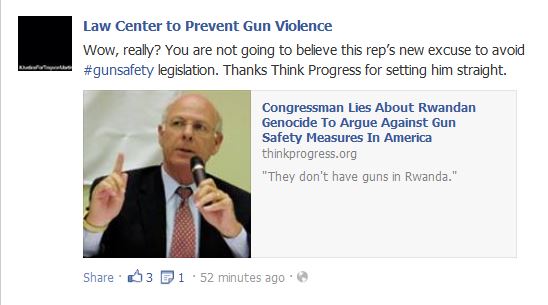 I saw that it linked to an article in Thinkprogress.com so, I covered the browser with the proper biochem/progressive-hazard protection my antivirus had and clicked on the link. In the middle of the babble I found this gem of absolute contradiction.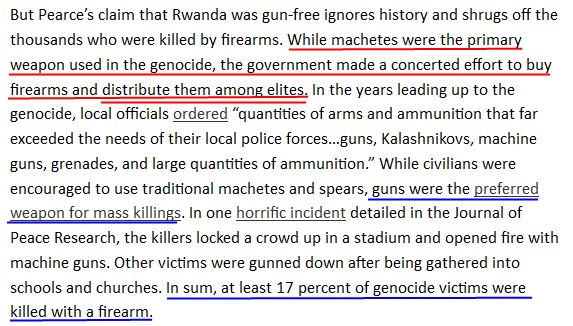 Let's check that red line again:
"While machetes were the primary weapon used in the genocide, the government made a concerted effort to buy firearms and distribute them among elites."
Among elites….among government elites. Among those who were politically faithful to the regime at the time and would lead the Hutu populace (already inflamed by a campaign of racial hatred) to chop and mince the Tutsies who were weaponless. So exactly how this is a ringing endorsement for draconian Gun Control laws just escapes me. If anything is a clear mandate to be not only armed but better armed that the government. Second Amendment rings a bell? Anyone?
Then it comes the final contradiction:
guns were the preferred weapon for mass killings

vs.

at least 17 percent of genocide victims were killed with a firearm.
My math might be off some, but last time I checked, 83% is a bit bigger than 17% leading me to believe that machetes, spears and even clubs created more death than guns….which were only distributed to an elite, a minority.
They want Gun Control because they expect to be that Elite, that minority in control of the guns and therefore everybody else. Screw 'em, we are not waiting for the boxcars heading East to start complaining.
UPDATE: Guess who joined in the stupidity?