Apparently the latest fashion on transmitting information to the users is the infographic which is nothing more than a cute, baby food way of delivering certain bits of info with the help of catchy graphics. Of course, GIGO applies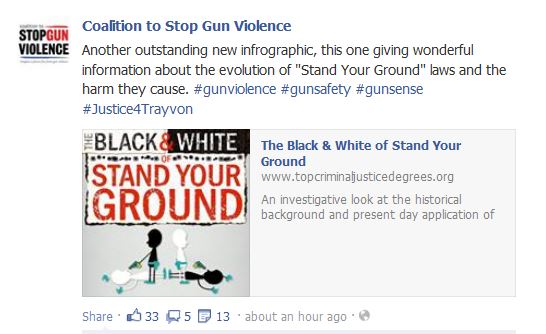 The infographic goes and "tell us all about the bad and racist thing that Stand Your Ground Laws are. As usual is filled with the misinformation we have been getting from the usual suspects and that  the Cult Coalition to Stoop Gun Rights Violence is more than happy and willing to spread.
I decided to check what else was in this particular site (topcriminaljusticedegrees.org) and the first thing I find is another infographic accusing the US Military, our fighting men and women, of War Crimes.
Quote: "Very few countries have violated as many humanitarian laws and codes of war on such a large scale, and for such an extended period. The vast political leverage of the United States, the rising indifference of media coverage, and the alleged need of secrecy for matters of national security have largely enabled one of the bloodiest 50 years in human history."
Also, both infographics make clear that it is the owner or owners of this particular website are responsible for the infographics.


So CSGV obtains some of its material from a source who is openly accusing the US of being just like the Soviet Union, Nazi Germany, Cuba, Communist China, etc.
And who knows? probably they believe it themselves.