The Cult Coalition to Stop Gun Rights Violence is all giddy this morning with the following: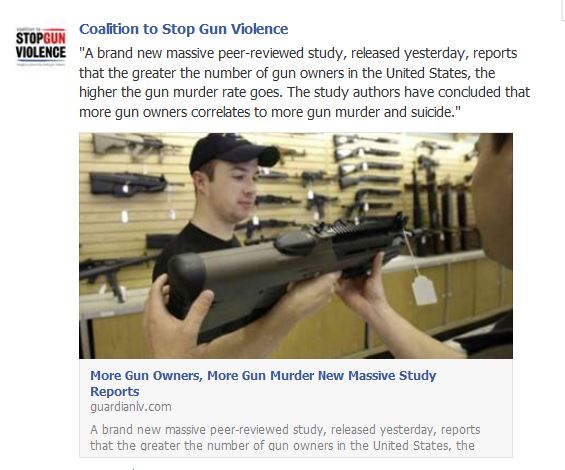 I found the report's website and being the cheap bastard I am, I decided not to waste my money buying it, specially after I read the "study" method:
Methods. We conducted a negative binomial regression analysis of panel data from the Centers for Disease Control and Prevention's Web-Based Injury Statistics Query and Reporting Systems database on gun ownership and firearm homicide rates across all 50 states during 1981 to 2010. We determined fixed effects for year, accounted for clustering within states with generalized estimating equations, and controlled for potential state-level confounders.
Wait, what gun ownership database? Again, What gun ownership database across 50 states? How can you make a study using something that does not exist? I know darn well that Florida does not have a Gun Registry of any kind so there goes the 50 states quote. In fact, how many states have a gun registry, much less an accurate gun registry?
I am sure we will be seeing some serious peer review later, but so far things do not look good for the study. Probably they took their statistical cues from the same people who created the formulas to determine the number of hurricanes we will have during any given year or the advance of global warming.