Warning: No idea if the memo is true or a fake, but argument's sake let's say is the real thing: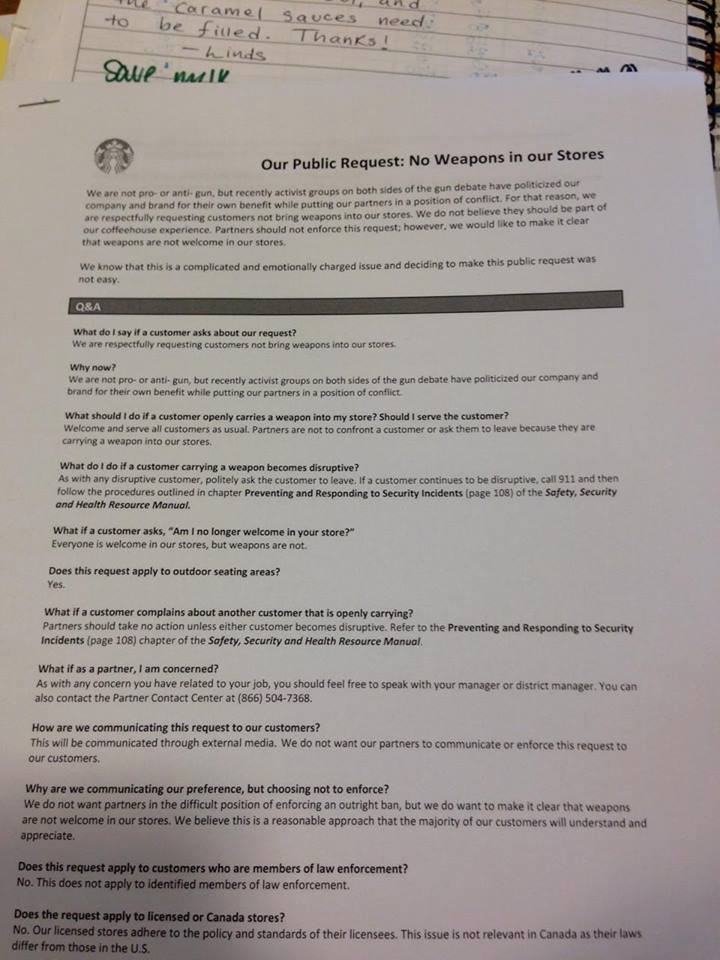 Lets go by parts, shall we?

Clear? You can still Open Carry (and for that matter Conceal Carry) and you will be served. Just don't act like a jackass because you will be asked to leave as it is their right to do so.

Don't let yourself be baited by a Mom Demanding Lemonade. Behave, be polite and ask the manager to remove the taunting/offensive idiot. Let the other jackass make the scene and get the bad reputation.

Subtext is important here. Being a firm from Hippie Town U.S.A. Starbucks is probably not very Pro-Gun. At the same time and during tough economic times, it would be idiotic to shoo away people with extra cash when you have investors that will expect a return. Since the first "buycott" Starbucks shares have risen almost double and they'd be fools to garner the ill will of Gun Owners since they are the majority. At the same time, no company wants bad publicity and the Antis do know how to be squeaky wheels. Also I think that the legal team examined the issue of enforcing a ban on all guns and found it somewhat complicated. You have states that have very few restrictions to carry a gun (concealed only) like Florida where you pretty much can ignore any No Guns Allowed sign since they carry no legal weight. Then you have states that allow business to ban guns but with specific signage and this is pretty much different from state to state. So it is a mess to have a corporate policy on gun banning that may not come back to bite them in the corporate ass or the local franchisee.
My very humble and non-legal opinion? This is a cover-yer-butt document that will be issued to the Media who will go and chant that the Gun Control Activist won a round against the NRA and everybody is happy: We still get to carry and the Anti Gun Squeaky Wheels get a dose of Slipstream Weapons Lubricant.
We still win. Go get your double shot espresso.
UPDATE: An open letter from Howard Schultz CEO of Starbucks.
I still stand on my analysis. They just don't want the undue attention. And this next bit kinda reinforces what I said about the legal crap:


"authorized law enforcement personnel." Law Enforcement cannot authorize the carrying of a weapon, only the enforcement of the laws as written by the legislature and signed by the Governor. They either consulted the junior partner of the legal firm or this was driven by the PR people (most likely.)
So, don't act like jackasses, let the other side be the jackasses. Leave the Mosin Nagant at home.
PS: Sorry Joe, I could not help myself. 🙂 Slipstream is a great lubricant!