They can call, but I call BS: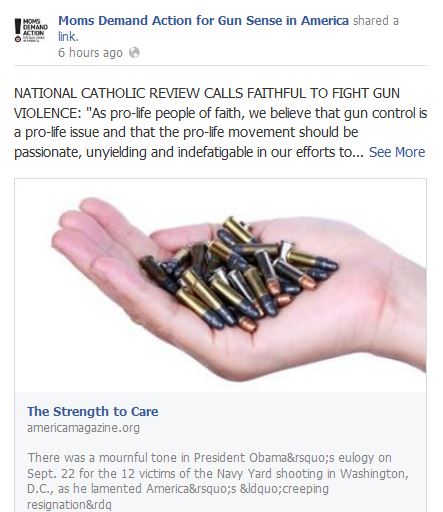 What can we do? Perhaps someday the Supreme Court will allow broader restrictions on gun ownership and use, but for now the court is stymied by the anachronistic worldview of the Second Amendment.
Hilarious idea, specially when it comes from an organization that is supposed to follow the teachings and mandates of that anachronistic book called The Bible. But America (magazine) is one of those "orders" from the Liberation Theology who had no problem with Che Guevara or Child Perverts or any of the many Liberal causes that have nothing to do with being a good catholic.
And By The Way: These are from the Catechism of the Catholic Church regarding Self-Defense:
The legitimate defense of persons and societies is not an exception to the prohibition against the murder of the innocent that constitutes intentional killing. "The act of self-defense can have a double effect: the preservation of one's own life; and the killing of the aggressor. . . . The one is intended, the other is not.

Love toward oneself remains a fundamental principle of morality. Therefore it is legitimate to insist on respect for one's own right to life. Someone who defends his life is not guilty of murder even if he is forced to deal his aggressor a lethal blow:

If a man in self-defense uses more than necessary violence, it will be unlawful: whereas if he repels force with moderation, his defense will be lawful. . . . Nor is it necessary for salvation that a man omit the act of moderate self-defense to avoid killing the other man, since one is bound to take more care of one's own life than of another's.

Legitimate defense can be not only a right but a grave duty for one who is responsible for the lives of others. The defense of the common good requires that an unjust aggressor be rendered unable to cause harm. For this reason, those who legitimately hold authority also have the right to use arms to repel aggressors against the civil community entrusted to their responsibility.
Now that we have that out-of-the-way, can these people get back to call the bingo game?
UPDATE: David of Musings Over A Pint had already covered this subject from an earlier fumble from the United States Conference of Catholic Bishops.