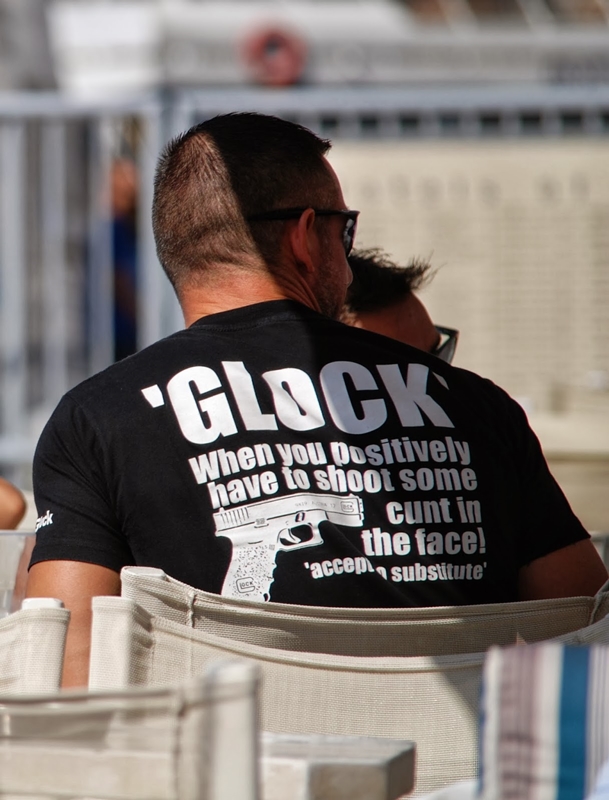 As my readers know I have just returned from a spectacular trip to Greece. I can't say enough about the beauty and the antiquities, the food, the color of the water, the open and friendly Greek people who will go out of their way to make your visit good and comfortable and more. But then the guy in this photo came along and sat down at the restaurant where we were eating. Talk about your "ugly American." Could he have been any more offensive? He was surrounded by beauty and friendly Greeks. Why in God's name did he need to wear a t-shirt like this? When you travel in Greece, you are not there to make a point about guns

via Common Gunsense A blog to advocate for sensible gun legislation: Disgusting and offensive "gun guys" bring their extremism on travels.
I will grant you that the message on itself is a wee bit offensive, but I still have not figured how Joan made the guy as American or how he managed to carry a gun in a country that has such strict Gun Control Laws. Maybe the NRA has such power that it bypasses local laws and the members get to carry all sorts of weaponry anywhere in the world. I guess this guy had a Bradley Fighting Vehicle just parked outside the eatery.
I do love her waxing about the peace and quiet of Greece admitting that yes, there might be an uptick on some criminal activity according to the State Department (The same one that brought us "They don't need back up in Benghazi") going as far as saying that "Police have also reported a significant increase in burglaries of both occupied and unoccupied homes and apartments." Great, I feel better now. And I also imagine that the Greeks stopped all riots because she was in town and did not want her to be bothered during her stay.
As usual, Joanne is so full of Stygian κοπριά even Heracles could not deal with it.

Hat tip to Bryan K.
UPDATE: Mike V's Corner found the T-Shirt…..in Australia.