It is amazing the stuff you get to read in the Interwebs. By accident I bumped into an Animal Rights Activist messages and they are not warm and panda fuzzy.

The rest is the info on her available vitals and possible relatives which I am not planning on sharing here.
Here is a photo pf Ms. Bachman and a bear she took.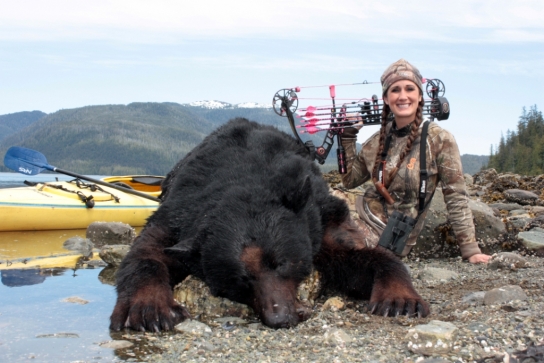 We see things differently: To the Earth Huggers, this is evidence of murder in the first, enough to make them all mad and utter death threats. To us is "She took that huge thing with bow and arrow? Holy ***! Who would want to mess with that woman?"
Some idiots apparently do want to mess with her. I am sure she is well aware of the threats and has planned accordingly. I am also sure most of the internet Guy Fawkes are just posing, but we also sadly know that there are true crazies out there that take their crazy ways from the basement to Real Life…
…and that is why we carry.