Civilian Warriors: The Inside Story of Blackwater and the Unsung Heroes of the War on Terror.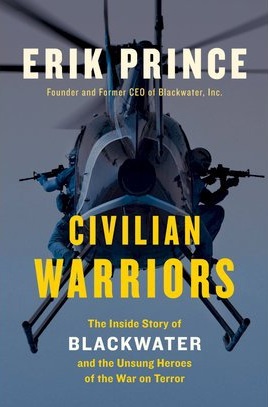 One of the great things about the Gun Culture is the possibility to meet people who you only read about or see in some 30 second tidbit in the news. I met PMC's and found them to be regular folk and not the barbaric, blood-thirsty mercenaries portrayed in the news and the halls of congress.
Erik Prince is the founder of the now extinct Blackwater and this book is his way to clear the smoke and bullshit created around the company and its people.  Some in the Old Media are already classifying this book as a puff job but it rings loud as truthful for one reason: Whenever you deal with the State Department, rest assured you will be shafted faster than an 18-year-old in a Maximum Security Prison.
Some years ago, there was a big IDPA match at Blackwater HQ and I was not able to attend for family reasons. A dear friend brought be a Blackwater cap as souvenir and I just put it away for keepsake. After reading the book, I am even more determined to save it till I croak.  What these people did is nothing short of amazing and a demonstration of what private business can do (better, faster and cheaper) than the Government.
But success breeds envy and ill will among some political rats and legal piranhas. Blackwater had to go down and it did…. but even so, they triumphed. I don't want to give away anything, just buy the book and remember all the stuff said about them and compare it with the book.
God Bless Erik Prince and his people.