After the failure of trying to brand the Insurrectionist label to Second Amendment advocates, the Cult Coalition to Stop Gun Rights Violence takes a chance now with the Anarchist label: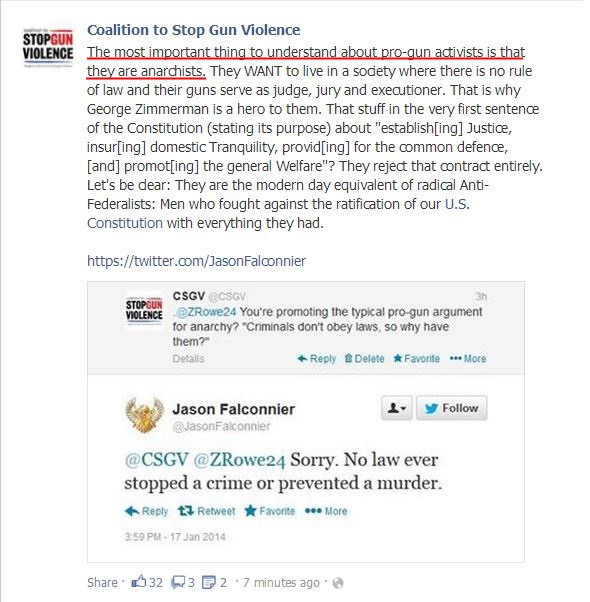 But the true failure of this post is the sad attempt of rewriting history or at least modify it to serve their stupid and dangerous purposes.
They WANT to live in a society where there is no rule of law and their guns serve as judge, jury and executioner.
Which is why the basis of our gun culture is the Four Rules of Gun Safety and adherence to the Bill of Rights.
That is why George Zimmerman is a hero to them.
No, Zimmerman was a victim of unchecked  prosecution for political profit.  Again, we "anarchists" were demanding that the rule of law to be applied fairly, specially that part that reads "Innocent till proven Guilty."
That stuff in the very first sentence of the Constitution (stating its purpose) about "establish[ing] Justice, insur[ing] domestic Tranquility, provid[ing] for the common defence, [and] promot[ing] the general Welfare"? They reject that contract entirely.
We already established that we want justice while CSGV has a track record of demanding the suspension of the rule of law  in order to bring us (insurrectionist/anarchists) into submission which is not the most proper way to insure Domestic Tranquility.  and most certainly, you cannot provide for the common defense unarmed which is what the Laddites want.
Let's be clear: They are the modern day equivalent of radical Anti-Federalists: Men who fought against the ratification of our U.S. Constitution with everything they had.
And this is when you know Ladd or the Intern On Duty has never taken 5 minutes to read about how our Constitution came to be. And yes, please, call me Anti Federalist and bunch me up with such "traitors" of our nation as Patrick Henry, Samuel Adams, George Mason, Robert Yates and James Monroe.  The Anti Federalists who indeed refused to ratify the Constitution unless some things of the utmost importance were added: The first amendments to our Constitution that we all know as The Bill Of Rights.
And maybe that is why they hate us so much as it was those Anti Federalists that made sure generations to come knew there were rights that could not be infringed and that were inherent to the individual and not granted (and eventually removed) by a magnanimous Central Government.
As sure as hell we ain't the ones wearing red coats.