This is the latest meme.

It comes from a 2013 article by Markos Moulitsas, founder of the daily Kos in which he, with some seriously twisted mental curlicues figures that the NRA somehow was  losing on the 2013 Gun Rights battle.
That is, until Sandy Hook reshaped the picture. Given the opportunity to be an honest partner in search of solutions to the gun violence epidemic, the NRA and its allies instead dug in their heels. Their obstruction was so absolute they even opposed a tepid, watered-down and nearly irrelevant expansion of the background checks system.

But opposing a bill supported by about 90 percent of the American public in poll after poll has proven costly to the gun lobby's most loyal lackeys.
He goes on to mention how bad  Rep. Kelly Ayotte (R) is doing in New Hampshire (Deep blue state), but fails to say that those numbers are the ones polled immediately after her vote against Expanded Background checks about a year ago and that she is not up for re-election till 2016. He also mentions Senator Jeff Flake from Arizona and again he is not up for re-election till 2018. So why mention two politicians that have no effect on the immediate future? Where are those evil ones that can be voted out of office this year? Maybe the answer is also in the article:
But the gun debate is no longer one-sided. New York City Mayor Michael Bloomberg's Mayors Against Illegal Guns responded with a massive $650,000 barrage of its own, making a joke of the NRA's pitiful contribution. In their ad, the mayors group noted that "89 percent of New Hampshire residents support comprehensive background checks, but Ayotte votes no.
Bloomberg's name has become toxic. The Colorado Recalls demonstrated that even outspending Pro-Gun initiatives 3-1, you may very well face the losing end of things. And it was so bad that Governor Hickelooper asked Bloomberg in a roundabout way to avoid any more contact with Colorado Politics.
So why is Moms Demand still pushing this line of political garbage? One reason might be that they need to cheer the troops and bring them up a bit after such a shellacking as the 2013 war was. But also there is the old principle:
"But the most brilliant propagandist technique will yield no success unless one fundamental principle is borne in mind constantly and with unflagging attention. It must confine itself to a few points and repeat them over and over. Here, as so often in this world, persistence is the first and most important requirement for success."
Adolf Hitler. "War Propaganda", in volume 1, chapter 6 of Mein Kampf (1925)
Or the vernacular:
"If you repeat a lie often enough, people will believe it, and you will even come to believe it yourself."
But we are on to them. And We Will Win.
UPDATE: As soon as I published this post and returned to Facebook, I was greeted by the following: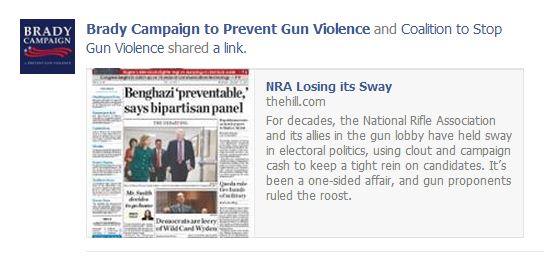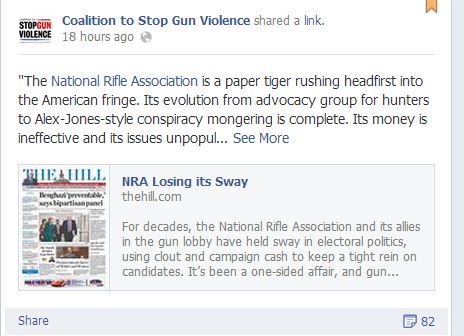 So nice to see all Gun Control Groups goose-stepping in unison.