Following Andrew Branca (@LawSelfDefense ) and his live twetting of the Dunn Trial.  Prosecution presenting ballistic and X-Ray evidence of the damage the bullets inflicted on Jordan Davis. The following is a quick look at the performance of the ammunition used and not what I think about the case (Other than from what I read, Dunn deserves a long vacation wearing orange rompers and enjoying the alternative lifestyles in the Grey Bar Resort. I might be mistaken.)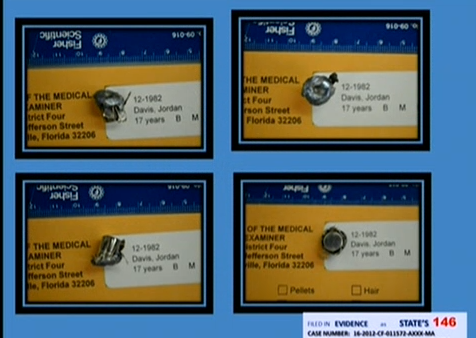 Not sure but the ammo appears to be Winchester Ranger SXT according to another Twitter follower. No idea on bullet weight.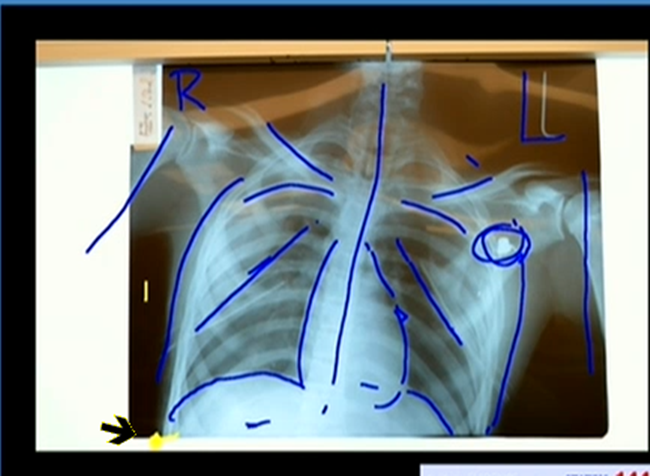 Arrow at lower left corner indicates point of entry. I guess the bullet is the one in the circles.
Bullet perforated diaphragm, liver, diaphragm again, right lung, behind heart, perforate aorta. left lung, arm pit. #dunntrial

— Andrew Branca, LOSD (@LawSelfDefense) February 10, 2014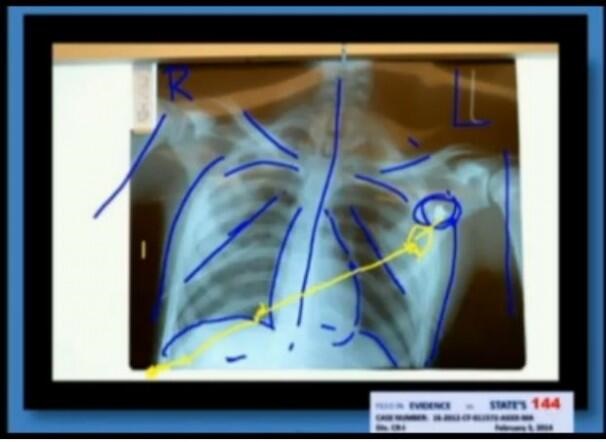 That is like what? Over 15 inches of soft tissue?  That is not a shabby performance for an allegedly "poodle shooter" round.
Update: Andrew Branca points out in the comments: "that 15″ of penetration diagonally through Jordan Davis thoracic cavity? That was AFTER first punching through both sides of an SUV door."
.Ladies and gents, that is some impressive performance.