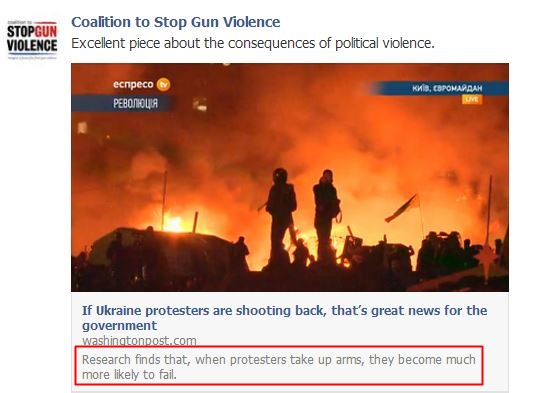 We must bow to the Government because, you know, they are the Government. Don't be an insurrectionist!  The article by Max Fisher talks about a research he did showing that when civilians take up arms, the likelihood of triumph goes down. But there is a money quote that gets lost in the shuffle and in the minds of those who suck up to the state:
It's really, really difficult to overstate the importance of the military in moments of mass popular protest or uprising: ultimately, they have the monopoly on force, and they can decide the outcome if they want to.
And in many countries with strict gun control and a populace that might be facing a 50 – 100 armed personnel against one armed civilian, I believe the outcome would not be a nice one.  But in a country where armed civilians outpace military and LEO by 26 to one,  a country where the Monopoly on Force (killing) does not exist, the conclusion by Mr. Fisher simply does not hold a lot of ground nor is safe to assume by a government with dictatorial intentions. And that is assuming the LEOs and Military would stay on the side of a corrupt government.
American Exceptionalism is more than just a slogan.  Some may want to remember that.