I am still mulling Michael Bane's latest podcast about the 800 pound gorilla that is the situation with Connecticut. One of the things that I concur with him is that there is a lot of folks on the sidelines cheering for the mass arrests and/or killing of Gun Owners and that is not a healthy thing for a country.
Of course, their talk is propelled by the fact they think they are above any consequence if things go south.  They are not the ones that will be on either side of the door being kicked down so they think they are safe. They love to have some "morcilla" (blood sausage) but they do not want to dirty their pretty hands mixing the ingredients or cranking the grinder.
If you Google "why are anti gunners so violent" you get almost 7 million hits. From demanding that bounties be put on our heads to the death of our families to send us to camps to summary executions and all the gamut in between is fair play according to those pushing for the final solution to Gun Control. And I am not talking some two-bit hipster posting a raving reply while having a croissant at the local Panera, but heads of organized Gun Control organizations. In a world where somebody on our side gets tagged as dangerous and terrorist by the Southern Poverty Law Center if we tell anybody Molon Labe, the same rules apparently do not apply to those who are on the side of fewer Rights for the individual and they can get away with wishing us to re-education camps.
I fear that if it comes to showdown, the casualty list will reach far beyond those on either side of the door.  There is a stack of bills long overdue and only the smallest amount of reason is holding the collection services. And trying to hide behind the First Amendment will have the same power as giving the Nuremberg Defense: remember, Tokio Rose paid the piper. Aiding and abetting the extermination of your fellow citizens will not be easily swept under the rug.
And my brain keeps coming back to this scene from Band of Brothers "Why we fight."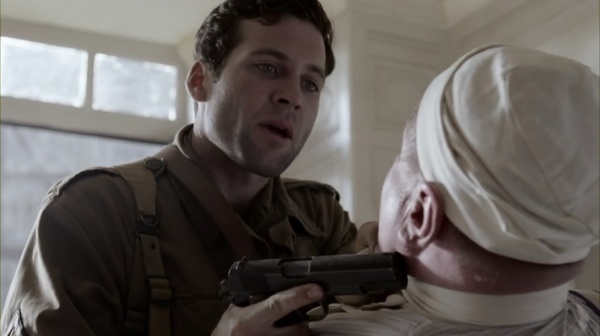 Webster: Shut up you Nazi fuck!
Baker: (in German) I'm not a Nazi!
Webster: Not a Nazi, sorry my mistake you fat fucking prick, what about a human being? Are you one of those? Or are you going to tell me you've never smelled the fucking stench!