From our Concentration Camp Timeshare sellers of the Cult Coalition to Stop Gun Rights Violence.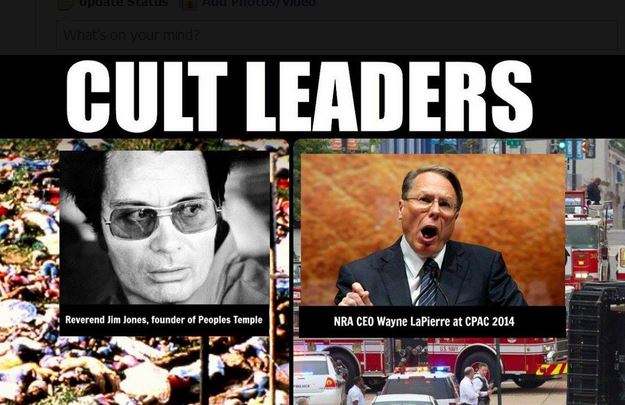 I have to quote myself to save time:
The Reverend Jim Jones was a very good cult leader.  For a jaded end of the 70s, he was charming and engaging, said the right things and was cunning enough to side with the right Democrat politicians at the time. From California 's Governor Jerry Brown (yes, the same guy is now back in charge over there) , Jerry Moscone, Walter Mondale and even the First Lady Rosalyn Carter. The People's Temple (Jones' church) had all the right connections that provided him with the cachet and respectability to garner more followers.

Reverend Jones was an avowed leftist to full throttle communist. But he also loved the monies and the women.
You don't have to stretch you imagination to realize that Jim Jones is more philosophically related to Ladd Everitt or Josh Sugarmann than Wayne LaPierre.  And physically Reverend Jones appears to have re-incarnated in the identity of our old friendJames Kilgore A.K.A Baldr Odinson of Ceasefire Oregon, A.K.A. Joan Peterson with a "Y" chromosome.
By next week, Wayne LaPierre will be accused of running a Sex Slavery cartel and be the brain in Putin's administration.
And that he also kills puppies.