I had already covered the idiocy of nominating Dr. Vivek Murthy as Surgeon General, but since today appears to be the day the Senate gets on the nomination thing, Shannon and Assorted wives of MAIG are raising hell.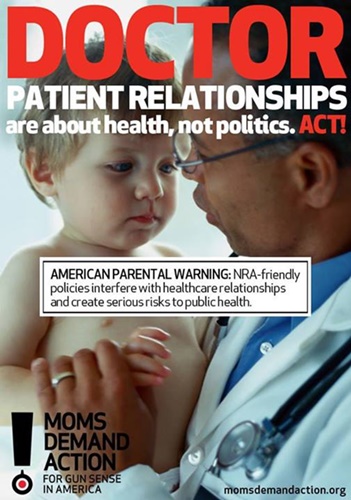 Nothing new here, but what caught my attention is one of the nuttier than usual comments in their Facebook page:
Dawn Herman Our doctors should have the right to know there are guns in are homes, just like they can ask about mental issues in the family.
Wait what? I must have missed that one in the Bill Of Rights.  The depth of idiocy running through the veins of these Moms is plain scary.  Just because they dress in a pretty white lab coat and have a Dr. prefixing their names does not give them the right to squat regarding my household or my family. And specially not a group that kill more people every year in the US than wars and just because they can't seem to remember to wash their hands.