On March 21 in the Polite Society Podcast, Paul Lathrop went on a rant about he disagrees with the concept of Sheep, Sheepdogs and Wolves.  I happen to agree and not only agree, I think that the works of  Dave Grossman are excellent but targeted to Law Enforcement and Military, not to the regular civilian that carries a gun for self-protection. That does not mean that there is stuff in his books that it does not apply or that we can learn from, but we are not warriors.
And that brings me to my personal peeve of the somewhat "cultish" admiration for the Knight and the Samurai. I think that as armed civilians we could have not chosen worst examples to "follow" and let's start with this crap: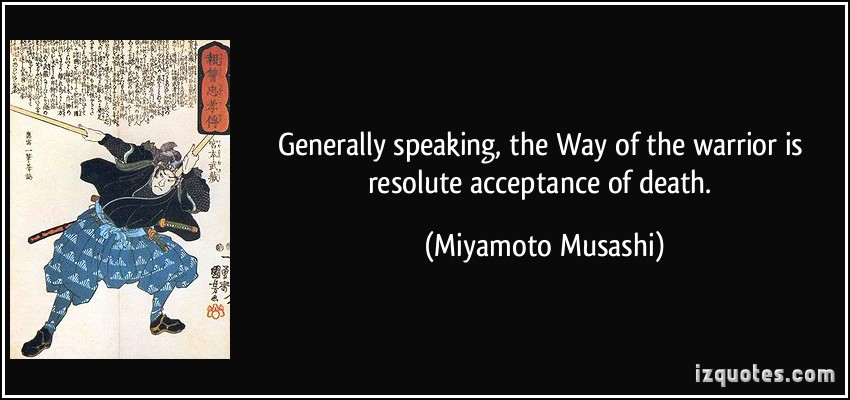 I am sorry but I do not "accept" death. I carry a gun and have gone through training and changed my head-in-the-clouds lifestyle because I do not want to be either harmed or killed by a Yakuza burakumin . I do understand that in a confrontation with a criminal, Death can happen to me as I am not perfect, but understanding the consequences and accepting it as fait accompli and making it part of my lifestyle are two very different things. If I were to accept Death, why would I even care to have a gun or prepare myself? The same goes for the Knight who would cheerfully die in battle doing the King's business according to what they call honor.
Yes, you complain that both had a stick honor code that protected small children, puppies and enjoyed sunsets walking on the beach , but the reality is that both the Samurai and the Knight were pricks. Both were enforcers for a King or Daymo, they obtained riches by bloody enforcement of the rules or orders of their superiors and considered anybody under them at best a nuisance that could be hacked to pieces without fear of legal retribution. Best way for a commoner to lose his head? Somehow insult a Samurai or a Knight and see a flash of steel and a close shave to the trachea. Even the in Le Morte d'Arthur, we see how the most celebrated Knights in history have no issue slicing and dicing some unarmed commoners because they complained they were not doing their jobs. If you think about it, both behaved pretty much like what we today call Organized Crime.
The romanticism associated with these two baffles me as a civilian.  I don't even think that our Military and LEO should consider them role models as their aim was subjugation of the lower classes and the defense of the kingdom against other pricks like them instead of liberation and protecting the People because their lives and liberty were valuable on its own and not because the Higher-Ups were worried about loss of income from taxes. And even then, the "acceptance" of Death should be eschewed or as General Patton said so succinctly: "No bastard ever won a war by dying for his country. He won it by making the other poor dumb bastard die for his country."
So who do Civilians should seek as role model? My very own choice (yours may vary) is the Pioneer/Homesteader: Somebody who wanted to live his life doing his work without interfering with others, but ready to lay down firepower to defend his family and his land from those who wish them harm.
Never start a fight; but always finish it.