More rehashing of old gun control scare memes: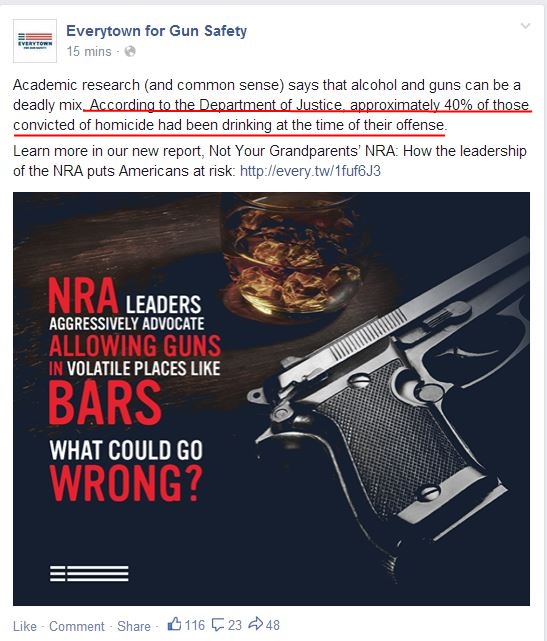 You have to admit they are crafty in their misdirection.  They cite the DOJ study and although they don't show you the study, let's say it is truthful for argument's sake.
What is the argument from Everytown? That people legally carrying guns in bars will inevitably lead to Wild West shootouts. But that is not what the study says, just that 40% of convicted homicides were drunk. Now you can be drunk in your house and murder somebody, or at church (them communion wine), at a state fair, in your front porch, boating, etc. And also it does not say that they were killed with firearms, it says homicides in general but all of the above is conveniently ignored by Everytown.
And the #1 reason they mention the DOJ study? I am guessing they could not find an event where a citizen legally carrying a concealed or open weapon in a bar, got drunk and starting to shoot out the place.  Or if they did, (I don't recall any off-hand) it was such an off beat occurrence it would make them a bigger laughing-stock.
"Well" says Ms. Gunsense "At least it is only a minority of redneck states that allow guns and alcohol."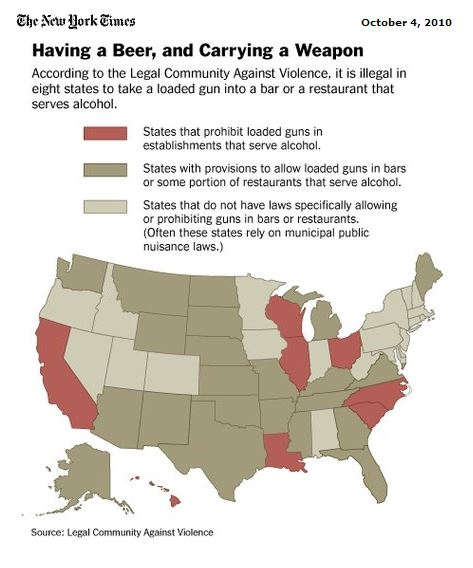 Storm in a teacup.  And we are the ones allegedly peddling fear.