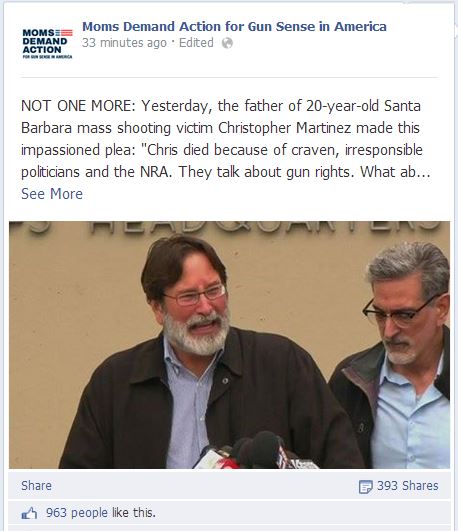 Mr. Martinez is grieving and as a good Californian, goes straight for the narrative he has been fed. as gospel. But setting that aside, the comments from the Moms are just as wacky and we even have a couple that are bound to make the Stupid Hall of Fame:
Leslie Aharonian Not one more !!! LaPierre we are coming for u!!!
(not expecting you will make good on that threat any time soon)
Ali van den Broek I keep wondering when someone will sue a government for not protecting its citizens. It is crazy that this keeps going on.
(Only if you can link the killings to environmental issues)

(This one I HAD to screen cap)


(Democrat Racist & secessionist Jefferson Davis is your reference? Really?)
Acela Spiegelberg My heart breaks for him. I wonder of laws can be enacted that if someone places threats, the police can automatically take their guns until they have been psychologically checked and released.
(IIRC, it is the law already in California and police did visit the critter. Of course if you are the son of an important Hollywood figure, it does not apply)
Diane Tillman I agree, when are we going to stand united against this insanity. We have got to stop the NRA from killing our children. Money is more important to them then lives. It's disgusting.(Wait, (Wasn't a Liberal Anti Gun kid who killed those people?
Meagan Breaux Where were all of the "good guys with guns" NRA?????
(In California? Are you kidding me? Gun Control paradise!)
Ann Dickinson America's gun culture is completely unfathomable to those outside the US.
(And they do killings in an industrial scale that would make you poop your pants 6 times a day)
The next two, go together:
Kathleen Brady I hate guns but the guns aren't pulling there own triggers. If guns were not available something else will be used. Better mental Heath care, better justice system rehabs, less bullying and more acceptance of individuality. That is what is needed
Sandy Riddell Wagner That's right wing bs Kathleen. I don't know any other weapon that would have allowed this sort of mass carnage.
(Last I heard: 2 Sigs, one Glock all with 10 round mags..Just like Moms and MAIG wants them)

And the award for absolutely politically dumb comment of the day goes to:
Joe Hickman This is just horrible! When will our politicians learn and stop worrying about being reelected and do real gun reform. Do the right thing for once. Over and over these things happen more and more and the NRA yells more guns. Reform that covers every aspect everything. So so Sad!!
OK, Unless something else happens or makes me come over, I am shutting down for the weekend.
Later.